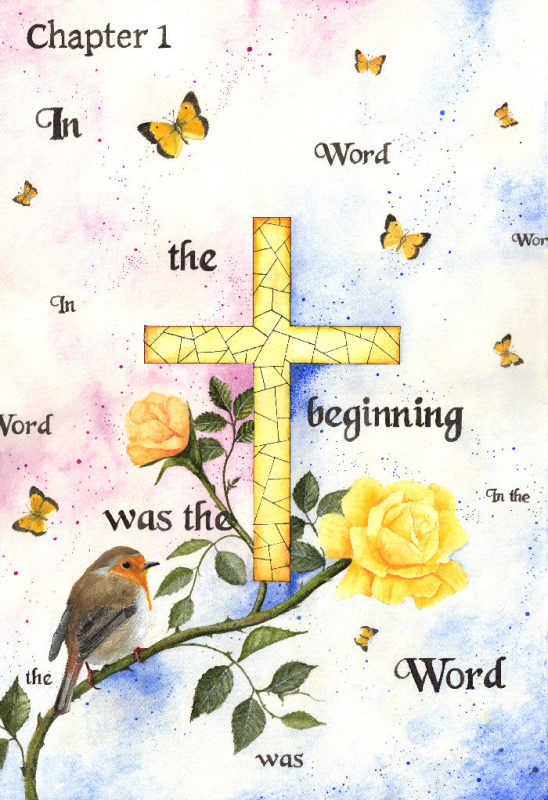 Yes this is the same bird, painted twice , though facing the opposite way to the Beloved Disciple title page.  It is sometimes interesting for an artist to paint the same thing again to see if you handle it differently a second time round.  The butterflies are Clouded Yellows. Quite rare now. And the roses came from my Garden. I wish I could claim to be a good gardener. I do my best. But actually, these roses were already here when we moved in! You know, being a Christian has its price. Honesty comes with the territory.

"All the darkness in the world

cannot extinguish

the light

of a single candle."


St. Francis

"I love to think of nature
as an unlimited broadcasting station, through which God speaks to us every hour, if we only will tune in".  
George Washington Carver.
That is such a great quote from  a man of God who has inspired millions. Much of what we call science today is little more than theoretical maths, attempting to explain reality by complex equations. So much of it sounds  like sorcery to me. Thank God for real scientists like George Washington Carver. 
​I like doing floral surrounds. I did one for the "For God so Loved " series. It provides an opportunity to bring a lot of elements together that you would not normally see in the Natural World. The Long Tailed Tits complement the pinks and reds of the flowers, a theme I continued into the next picture. When I walk around a garden the things I hope to see are a rich abundance of flowers, trees and the real presence of wildlife. Structured, formal gardens with their almost sterile landscape do not do it for me. A perfect lawn dotted with molehills is always going to raise a smile on this artists face.
​The words are the seven I am statements of Jesus in the Gospel of John. Is the number significant? Possibly, when you consider the Book of Revelation and how many times it appears there.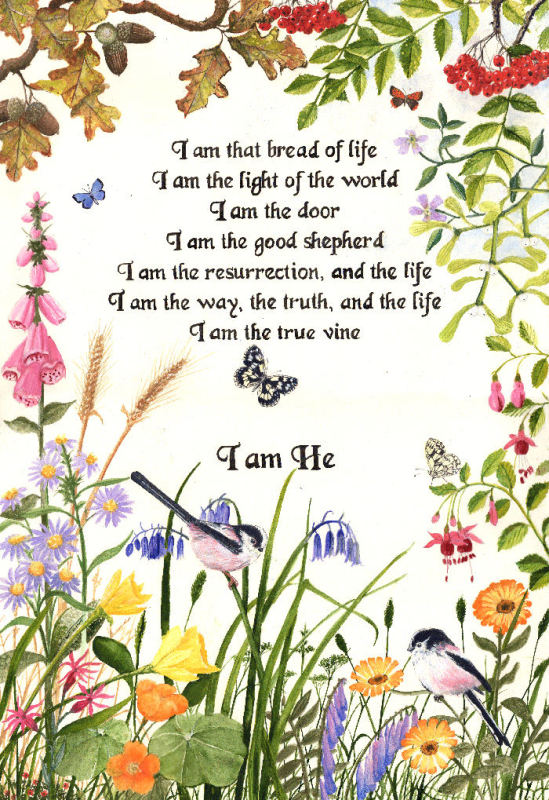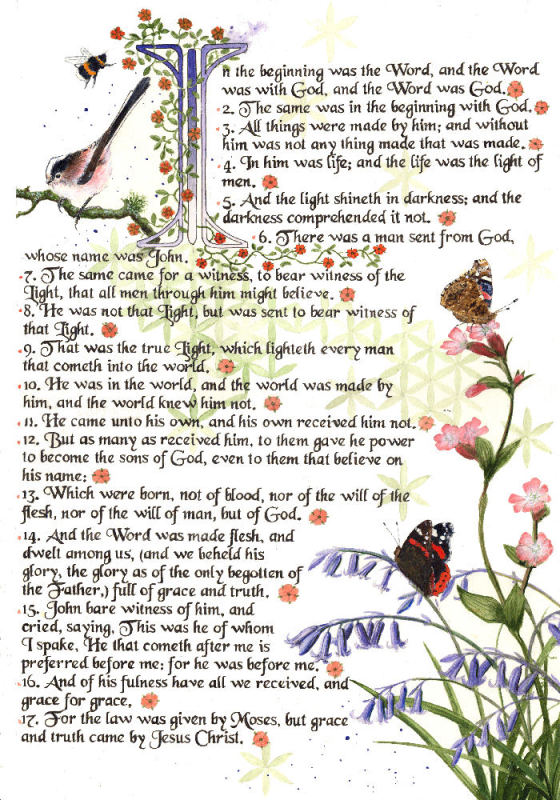 Butterflies are flitting moments of colour, and Red Admirals are common enough for most people to recall seeing one at some point in their life. It seems to be their purpose to put a smile on my face, and possibly to put a smile on everyones face. To catch one sunning itself, which they love to do, is a pleasure better than chocolate. OK, that might be stretching it a bit, but you get my drift. Red Campion nd bluebells, especially in woodland swathes. Ahhhh.
When the world thinks of Jesus it is usually in terms of his life and death and not much either side  of those parameters. But these opening verses of Johns Gospel echo Genesis (Gen 1:1),
Whenever we go to the RSPB site of Minsmere, I always look for a Stonechat, especially along the strand by the sea. These small relatives of the Robin are so beautiful you can't help but love them. If you get too close to the nesting site they will "chink" you. That is the alarm sound they make, supposedly similar to two stones being struck together. Hence the name, "stonechat".
"Our hearts were made for You,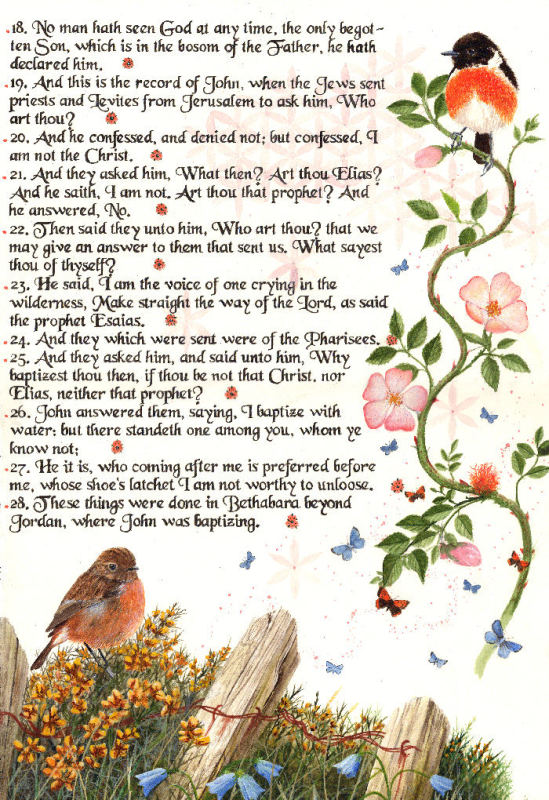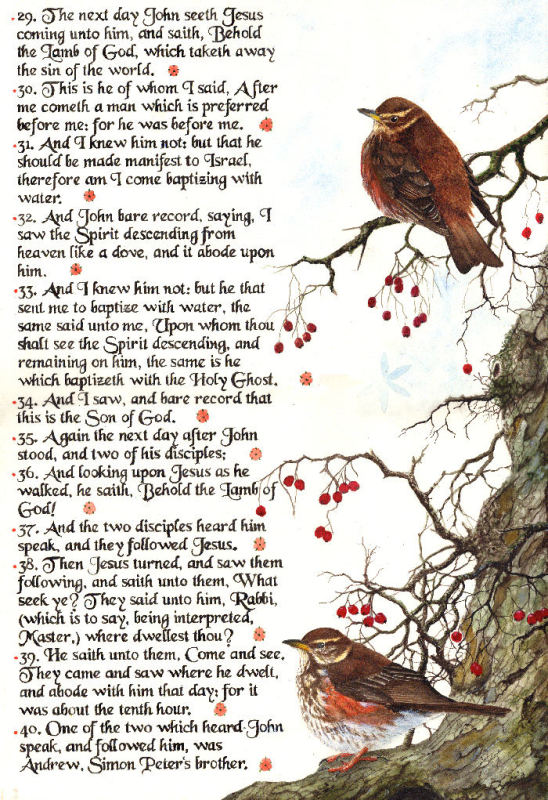 These small thrushes turn up every winter in considerable numbers, seeking food and driven from Northern Europe by harsher winters. They get their name, Redwings, from the obvious flash of red just beneath their wings. They are always in competition for the last hawthorn berries still clinging to the trees, not only with our resident birds, but also with our other, and larger, winter migrant, the Fieldfare. That is how I have depicted them here, jealously guarding their food supply. They must really like it in the south of England, especially here in Essex, because our winters are so mild. I can only remember snow in any significant measure three or four times in the last Forty years or so. 
to do all things more abundantly than we desire or understand, according to the power that worketh in us;
To him be glory in the church,
Amen.


At the beginning of the year the male Chaffinch in full breeding plumage is a most striking bird. At the end of the season when the "kids" have flown the roost, not so much! And mum looks positively ragged. I have seen birds almost bald from the effort. There is a profound lesson to be learnt here concerning the raising of children. You can lose your plumage!
There was a time in Ye Olde England, to travel from city to city or village to village, when there were only unmade roads flanked by wildflowers and hedgerows and you were more likely to encounter someone on foot than on a horse. The  Chaffinch was the most common bird in the land. But times change and with it the fortunes of many wax and wane. Today, believe it or not, the most common bird in Britain is also the smallest, the Wren!
"I wish it need not have happened in my time," said Frodo.
"So do I," said Gandalf,

"and so do all who live to see such times. But that is not for them to decide.
All we have to decide is what to do with the time that is given us."


J.R.R. Tolkien, The Fellowship of the Ring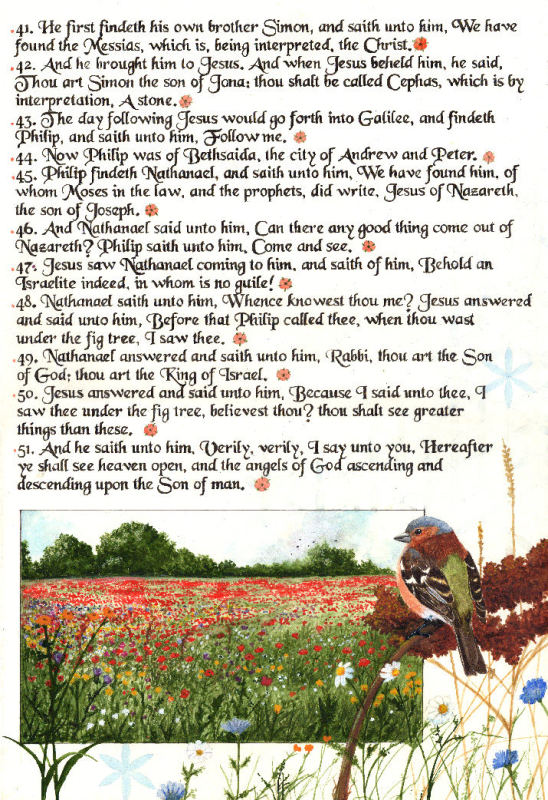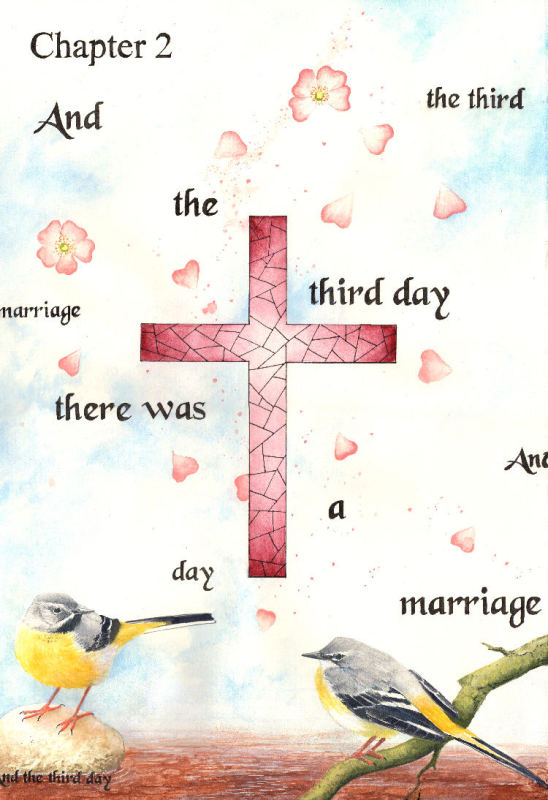 The birds are Grey Wagtails, relatives of the more common Pied Wagtail. As you can see from the painting they are really rather more colourful. They are also not so well known or seen. Unlike the Pied Wagtail, which you can see all year round even in towns and cities, they prefer rivers and streams of remote locations.  This year we spent a couple of weeks in Fort William, Scotland, and took advantage of the local walks including Glen Nevis which is criss-crossed by streams tumbling down from the surrounding mountains. This is perfect country for birds like the Yellow Wagtail and the Dipper. Some of these walks are not for the faint of heart!What I really like about the Highlands is the real sense you are no longer in familiar territory. Many of the local signs are in Gaelic. In the spirit of our visit, here is a little bit of Gaelic from the gospel of John 
Anns an toiseach bha am Facal,
agus bha am Facal còmhla ri Dia,
In the beginning was the Word
And the Word was with God
The birds in the painting are a Merlin and Wren, who are not necessarily the best of bedfellows! The butterfly is a Small Tortoiseshell. It seems most unlikely, but there will come a day when these beautiful examples of creation will happily co-exist. 
"Fairy tales do not tell children
the dragons exist.
Children already know
that dragons exist.
Fairy tales tell children
the dragons can be
killed." 

G.K. Chesterton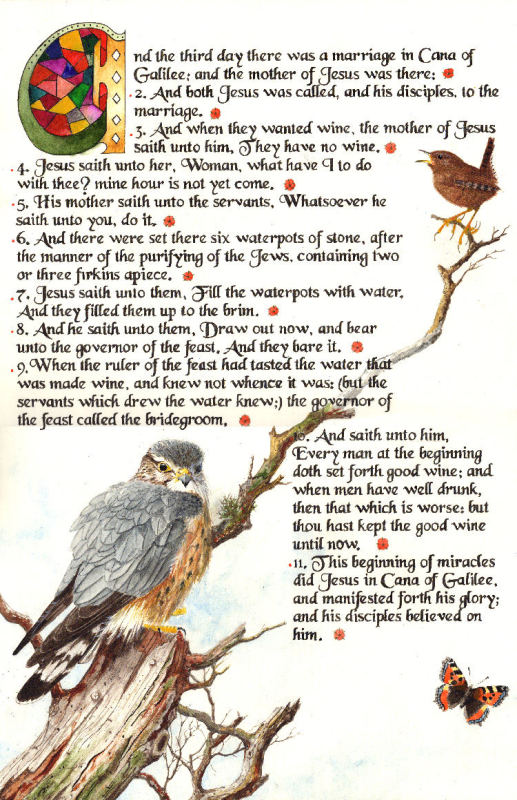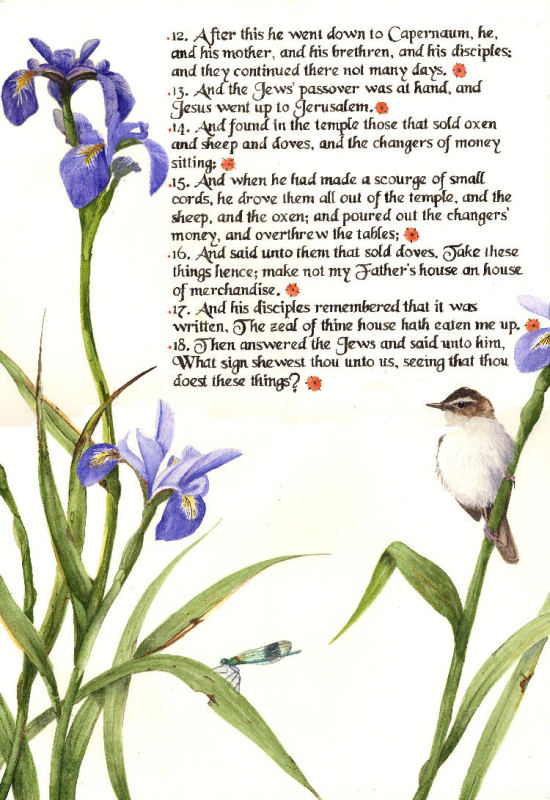 If you take a walk along one of te RSPB footpaths that run alongside a reedbed, or better still, take a boatride along a river that is lined with reeds and bulrushes, you will likely hear the singing of dozens of small birds. Actually seeing them is another matter. The birdsong will likely belong to one of two birds, the Reed warbler and the one I have painted here, the Sedge Warbler. Apart from the Sedge Warblers occasional flight up into the air and back down again, that is as good as it gets. These birds are what Bill Oddie used to refer to as "little brown Jobs" . It is a bit of an unfair description because I think they are rather lovely. Yes, the painting on the left is something of a fantasy in terms of posing. An artist rarely gets this lucky. Well, that is down to artistic license. But at least the flag iris  is pleasing to the eye and you do get to see what the bird looks like. The small dragonfly is a Banded Damoiselle. I dare say, that if the warbler sees it that might be game over.
Venerable John Henry Cardinal Newman (1801-1890)
There is something about old terracotta pots that I find interesting. In fact, they just get more and more interesting the older they get; cracks and marks, lichen and moss just add to their value as far as I'm concerned. Whether they are useful as a pot any more is entirely another subject. But for an artist, and I've said this elsewhere I'm sure, things are never more interesting than when they begin to fall apart. I speak from experience. May we live in interesting times! There are now so many varieties of pansy out there you could paint a different one every day for ten years. The old moss laden tree at the bottom is an alder. It is probably in the last stages of its life. Like I said, interesting. The two titmice are Coaltits. The other bird is a Siskin. The butterfly is a Speckled Wood. Once again, unusual combinations, artistic license.
And the Lord who is your leader,
he himself will be with thee: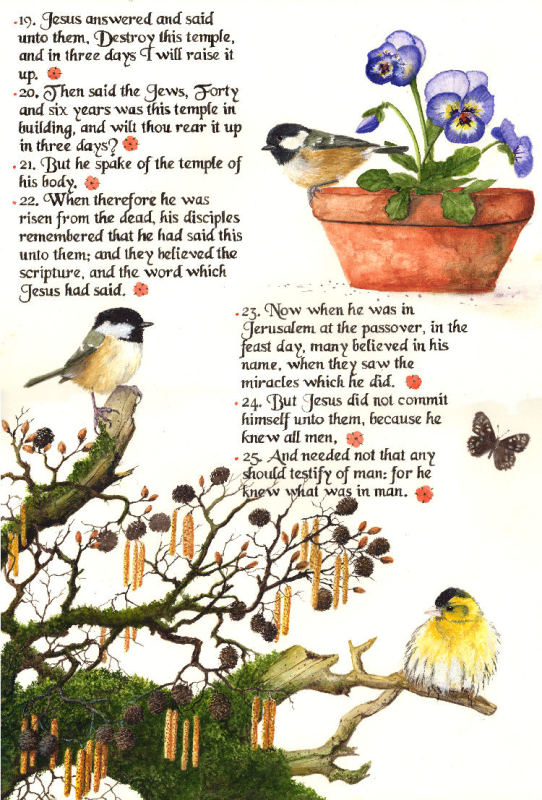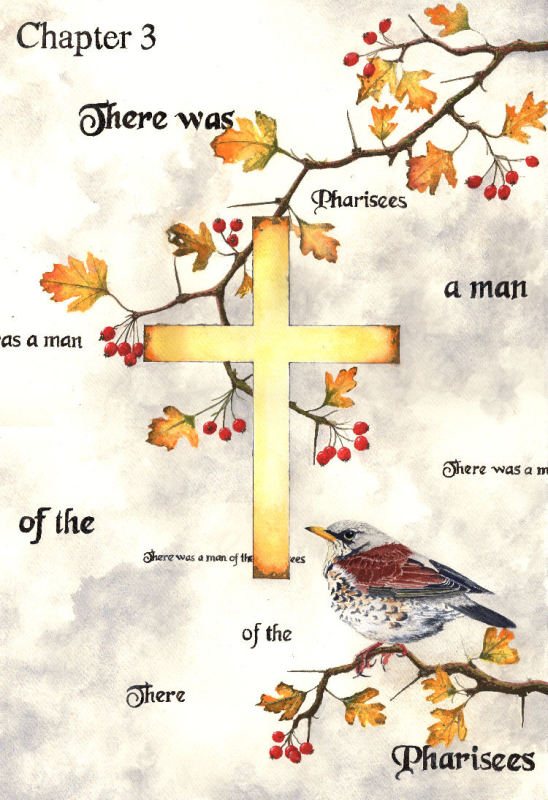 In chapter one I painted one of our winter visitors, the Redwing. Here is another member of the thrush family, the Fieldfare. They come to Britain for exactly the same reason, to escape the much harsher North European winter and a scarcity of food. Large flocks of these birds can be seen in our fields and hedgerows. Few people realise that birds we consider native to britain are actually migrants from Africa or Northern Europe.
Autumn going into winter is a glorious time for colour if you catch it at just the right moment.
I think the little Lapwing chick looks so cute. There are probably another two snug and warm under mum. These birds are are properly called Green Plovers, though as you can see, their plumage has a kind of metalic sheen to it that shimmers in the sunlight. Starlings have a similar sheen to them.
that he has been waiting for you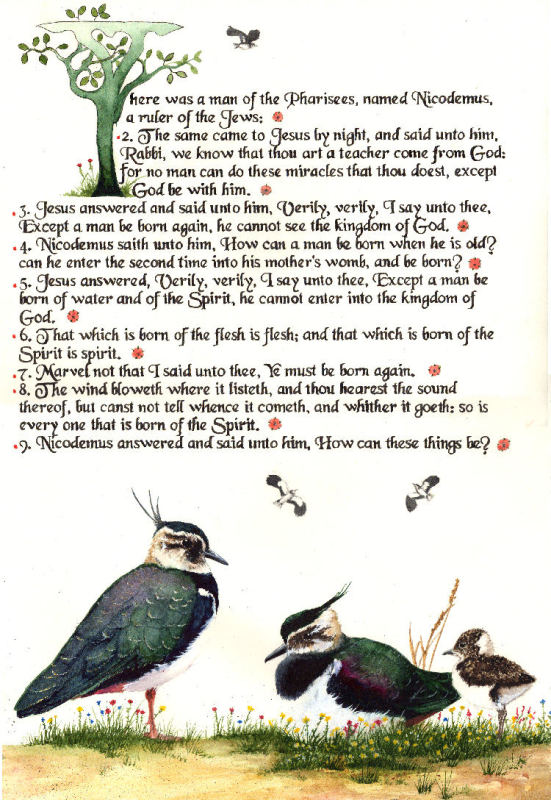 The small woodpecker in this painting is something of a rarity. Very few birdspotters have seen one (including me) even less know of it's existence. It's called a Lesser Spotted Woodpecker, not because it isn't seen very often or because it has less spots than the Greater Spotted Woodpecker, but because it is smaller. Not much different to a sparrow actually.  Well, how nerdy is all that information! But nature is all about detail. The small bird perched atop the tree, on the other hand, is a common garden visitor. The Blue Tit.  He has his eye on that bug flying away. These birds are familiar visitors to my art and may they continue to be so. Yes, another old tree from my collection of photos of old trees. People tell me that I need to get out more. I get out quite a lot thank you very much. How else do you think I got so many pictures of old trees. Some one once asked me did I paint nudes? (I think they thought that there was something prerverse in wanting to paint trees.) To which I replied, "do you know what the life expectancy of a married artist is who paints nudes? About the same as a first World War infantry man." (I don't by the way)
​But not for that reason. I think painting nudes is just another form of soft porn. Actually, some of it is not all that soft. And I can hear the counter arguments already, "art is not porn". To which I would say, "of course it is, it's just a matter of a brush instead of a camera". And the arguments go back and forth. At the end of the day people will justify their lust any which way they can. And they do. In a nutshell, it isn't good for the soul. For me it is not part of the Christian walk and Christian artists dally with it at tremendous risk. I leave you here with a well known quote from the text opposite.
"For God so loved the world that He gave His only begotten Son that whosoever believeth on Him should not perish but have everlasting life."
​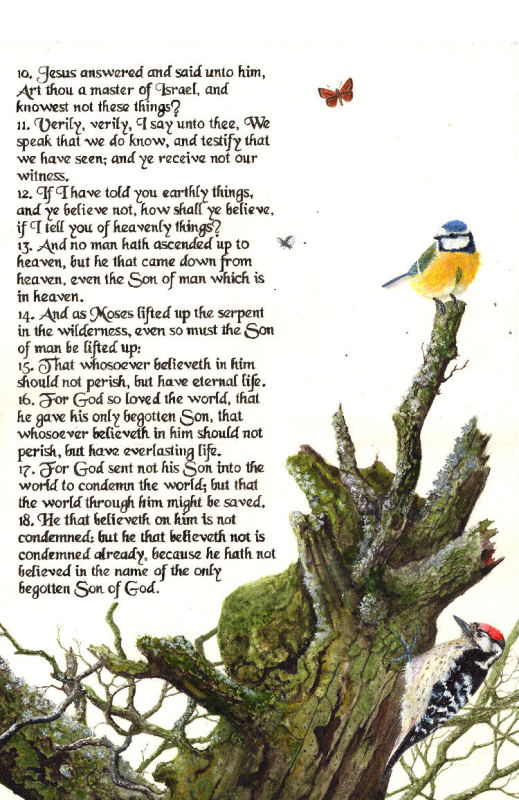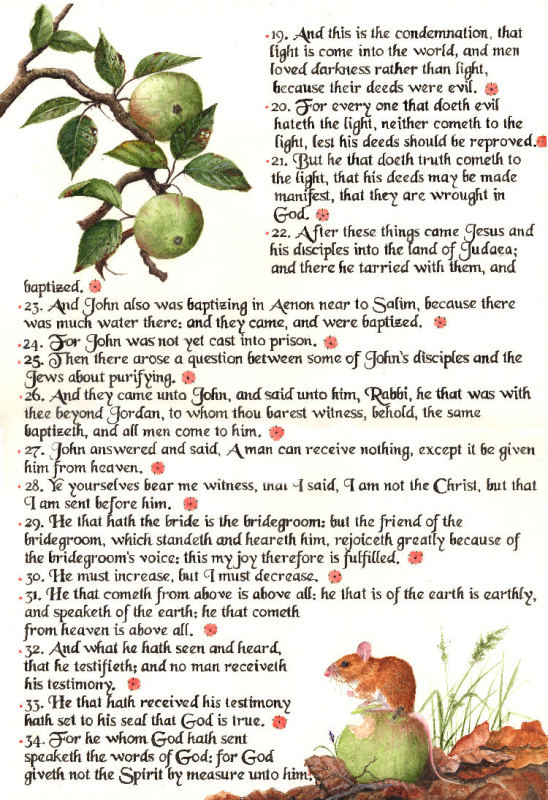 "He is cute though. Those big eyes. And he is not the kind of mouse that wants to move into your house and chew through your food containers, electric cables, and sleep amidst the towels in your airing cubhoard. And then there is the...well you know if you have ever had mice where this is going. No, this is a country mouse. To give it its proper name, Wood Mouse. Some experts call it a Long Tailed Field Mouse." So went my response to, "I don't like mice, why don't you paint another bird or a flower. Or a hedgehog, I like hedgehogs." What can I say, I like Hedgehogs too, I have painted several of them. And if it were not for the damage that an ever increasing colony of House Mice can do to your property, I would not have a problem with them either.
Another impossible scene. Ok, perhaps not impossible, but highly unlikely. What are the chances of a Robin, Nuthatch, Hedgehog and a Painted Lady Butterfly all posing perfectly so that I could sit a few feet away and paint them. And sister Robin, would you mind standing on top of this carefully positioned apple? No, it didn't just leap out of the box into the perfect place. Oh, I nearly forgot the Ladybird. What can I say. Families sitting, all facing a camera, are not exactly natural either, are they? Yes, the painting owes more to imagination than any natural event, but I was trying, in my own small way, to create something beautiful, something that inspires.
"Pray with great confidence,
God is a spring of living water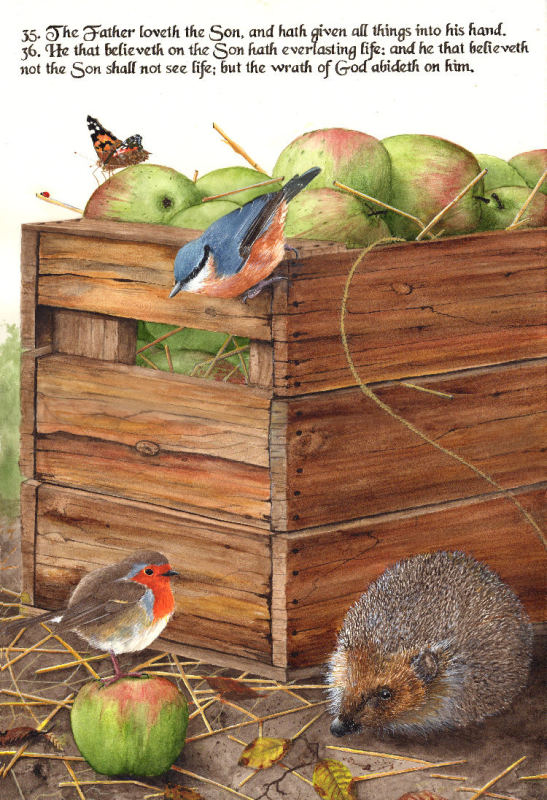 All the art  in this Gallery was created with home made watercolour paint on 140lb Fabriano Artistico Paper. 22* x 15* (Does not use animal products in the sizing) I used Rosemary & Co Brushes. (Synthetic) The calligraphy was done by hand using a brush and acrylic ink.

If you would like to leave a comment or ask me a question concerning the art or anything I have written on this site I can be contacted at the following address. 

crowman24@hotmail.co.uk