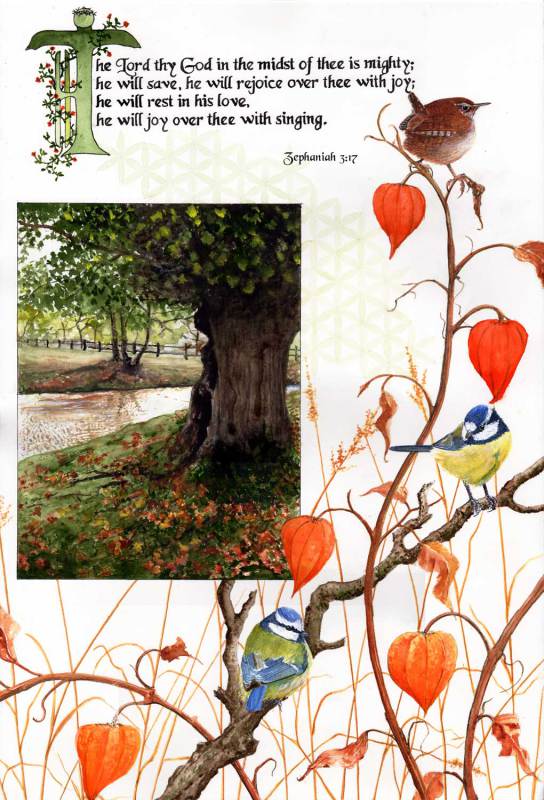 The New Forest in Hampshire has been a favourite of mine for as long as I can remember. Yeah, I know, I have a lot of favourites. What can I say but quote Dorcas Lane from Larkrise to Candleford, " It is my one weakness". The last time I was there, a special occasion, I took loads of photos of streams and trees, one of which I used as the basis for the small painting in this page. Chinese lanterns. Love them and I need no excuse to paint birds. Wren and Blue Tits.

The Scripture

The Word of God is full of great promises. Here is another one. But even better, He keeps them all. He is faithful to His Word.
​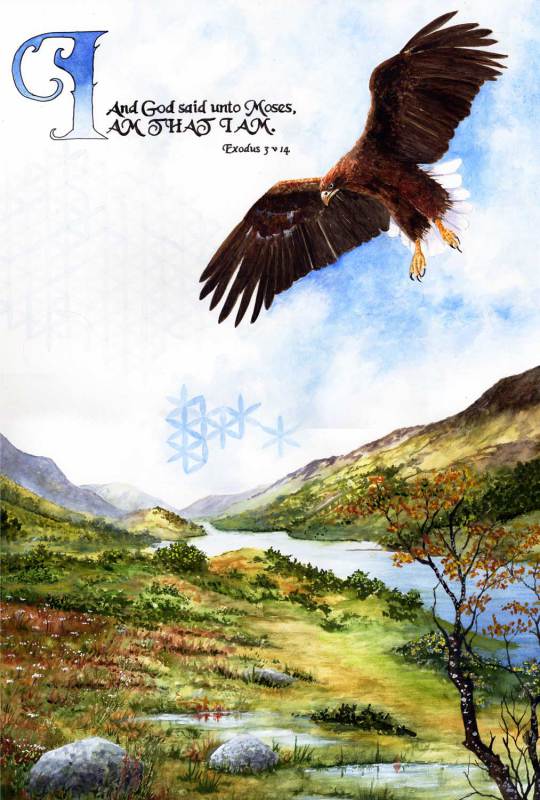 A White Tailed Eagle in its natural environment, spectacular! These birds have recently been re-introduced into Scotland after having been extinct in this country for some time.

The Scripture

God is! He does not need any other qualification from Mankind. He is from everlasting to everlasting and unchanging. To ask, as people are want to do, because they cannot grasp the concept of eternity, who made God, is the height of ignorance. And let's face it, we have all been guilty of that at some point in our lives.
​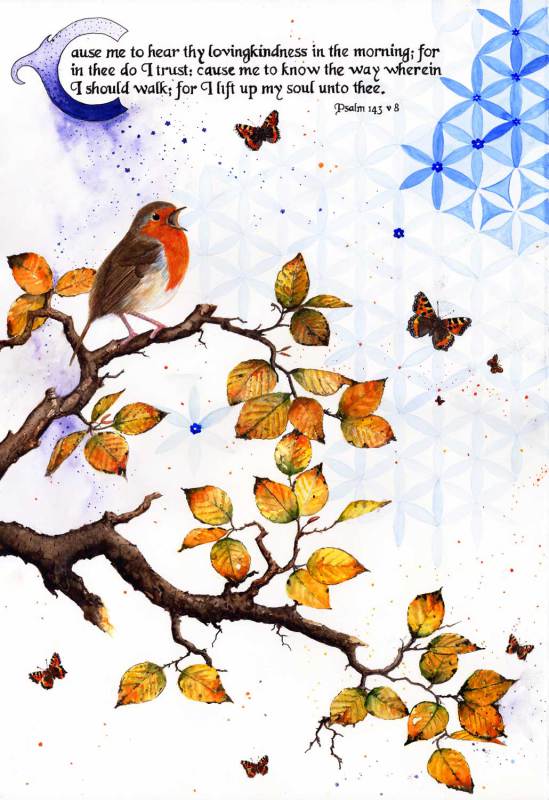 This painting and the next both feature singing Robins. Like I said earlier, "they are my one weakness." Small Tortoiseshell Butterflies are probably our commonest butterfly. No less lovely for being common, lol.

The Scripture

Have I said it before somewhere, most likely? Waking up early out in the country you will hear the dawn chorus. Nature knows how to praise its Maker.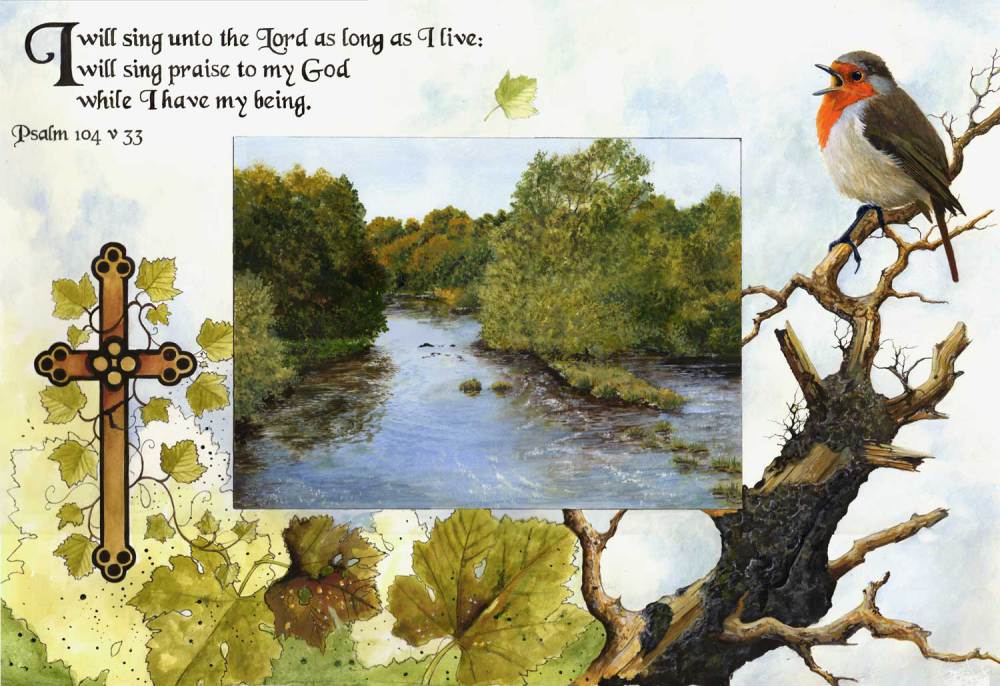 The painting in the centre acting like a window onto another vista, is a view of the River Tame. I had a lot of fun painting the changing motion of the water. Now when I say fun, what I really mean is that it was a challenge and not very easy at all! 

The Scripture

If we understood half of what God has done for us! There is nothing we can do to pay that back. But we can thank HIm by singing his praise, we who once mocked HIm, spat in His face, beat Him and crucified HIm. And yes, we are all guilty of that.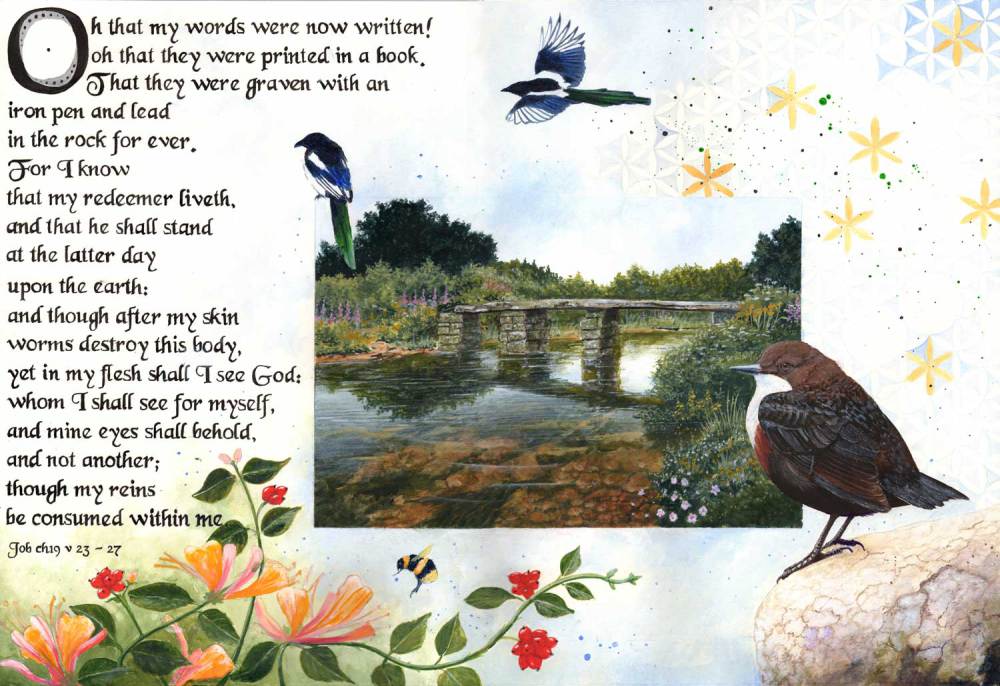 The painting in the centre of this work is the Clapper Bridge in Postbridge, Dartmoor. It is a fine example of a simple and ancient form of bridge building. It is set in a beautiful area, excellent for walking. I have been there many times and never tire of going back. The bird is a Dipper and gets its name from running along shallow stream and river beds where it hunts for insect larvae. This painting and the previous one I did in landscape format rather than portrait. I don't have a preference really it's just whatever works for the subject. 

The Scripture

This scripture is astonishing when you look at it closely, and hear what Job is saying. He will see His redeemer in the latter days upon the Earth, in his own resurrected flesh. Amazing faith!
​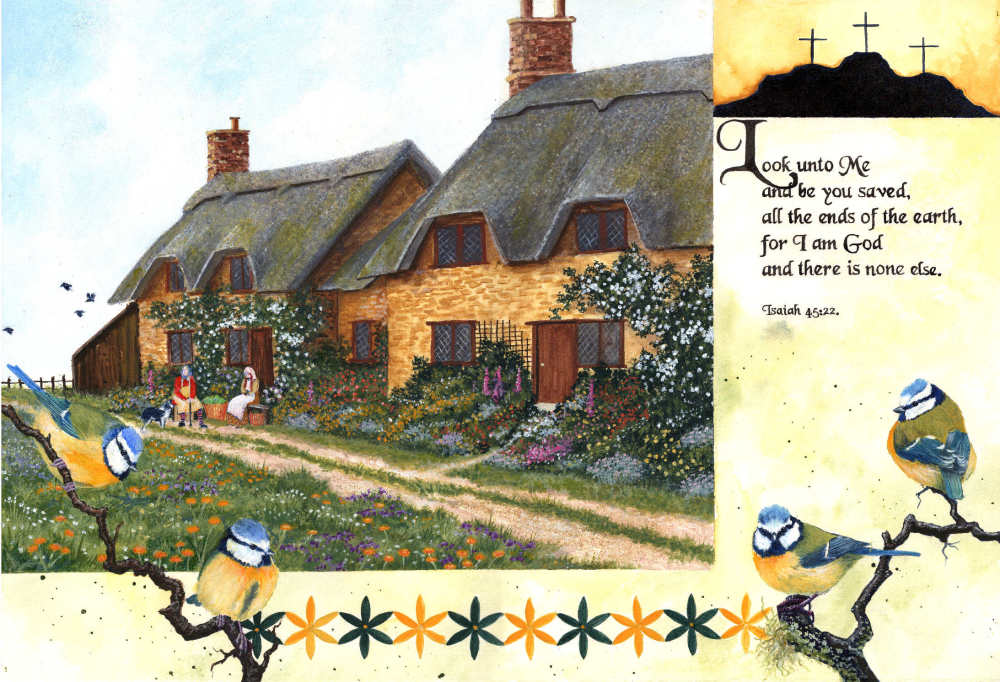 The birds are blue tits. The place I am not so sure about. I think the cottages used to be a public house in Charlston. I took some liberties however. a lot more flowers and a couple of ladies who clearly belong to a different time. Yes, in other words more romantic.

The Scripture 

This is one of the messianic prophecies in Isaiah. Charles Haddon Spurgeon said this was the scripture which brought him to Christ. "All you have to do is look" said the preacher. And look he did!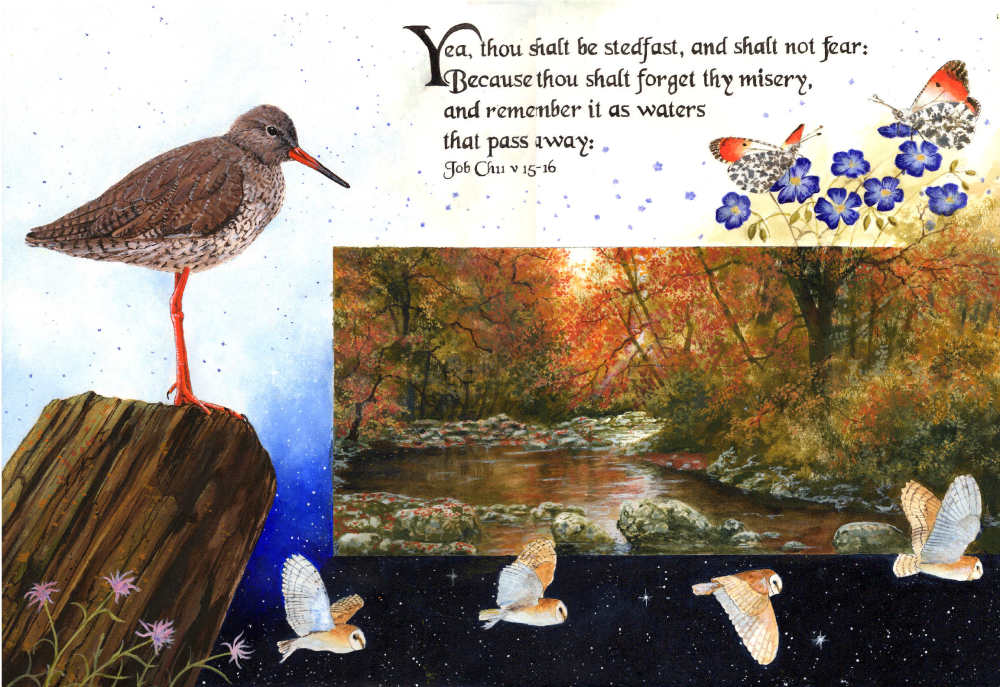 I have painted these owls in flight several times. It is one of those themes that keeps coming back and grabbing my attention. The bird on the post is a Redshank in classic pose. The Orangetip butterflies are also yet another favourite and you don't need me to tell you how they got their name! The river scene is the river Derwent in autumn. You just want to be there, don't you.

The Scripture 

It is one of those scriptures that when you read it it always seems to come at just the right moment. No one is exempt from lifes' tragedies, worries and pain. We all seem to get our share sooner or later. So its good to store words like these away for a rainy day so to speak. The question I get asked quite often by those who question the existence of God, is, "if there is a God why does he let all these bad things happen, why doesn't he stop it from happening. It is a good question. Jesus was quite blunt about it, He told us the truth. He said in John 16:33, "You will have suffering in this world." He didn't say you might – he said it is going to happen. That does not answer why, does it? But any short answer I give here will seem trite. So I will be blunt. We, that is mankind, are in rebellion against God. The world that God made was beautiful and perfect and we can still see some of that even now,  despite mans best efforts to trash it and each other as fast as we can. And whilst we do that we do our utmost to write God out of the equation. One TV scientist recently told us that we don't need Jesus because the stars died so the universe could exist. He went on to tell us that we are insignificant, that we live on an insignificant planet  in an insignificant part of a spiral galaxy in a universe that is expanding to oblivion. If that is true then why worry about the consequences of our actions. I mean, why be nice to each other, why care about our planet if it is all so pointless? We are full of contradictions. When it comes to the question of God, we deny His existence and blame Him at the same time. We want the world to be perfect, or at least our little corner of it. No bad things happening here, thank you very much. But when bad things happen they pull us up short. It  seems we do care after all. And God cares enough to allow bad things to happen, and He does allow it, so that we do stop and consider whether there is meaning to and in the Universe. He allows it because He loves us too much to let us go blindly to our destruction. The last thing we will ever admit though, is that we need the tragedies, the suffering and pain. But here's the thing, it will not go on for ever. There is an end in sight, both to our own brief existence and the Earth itself. God has promised that it will not go on for ever. There is a limit to time. The question is, are you ready for what comes next? Yes, there is a next.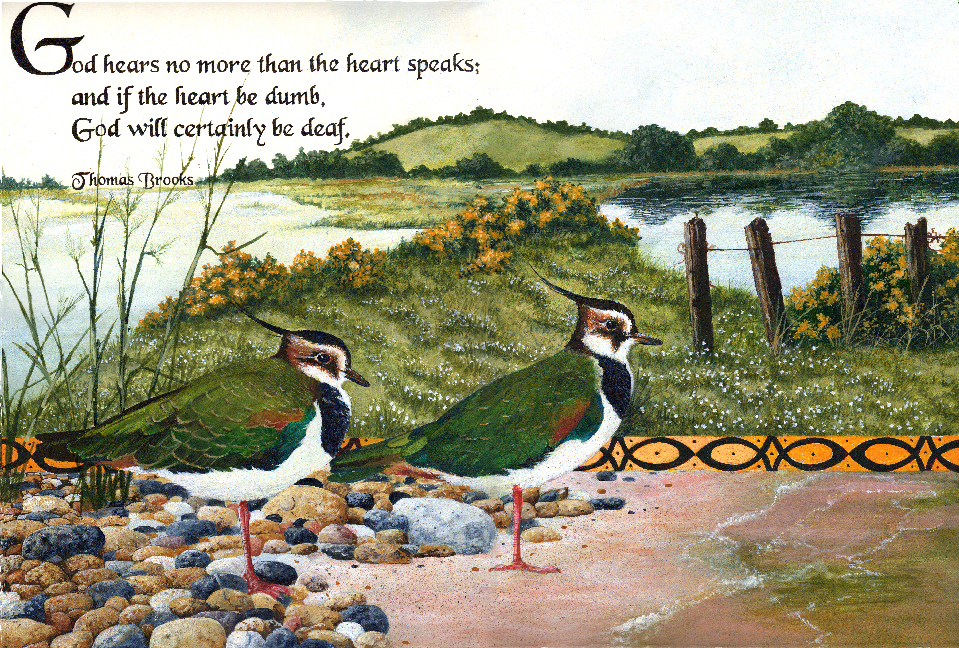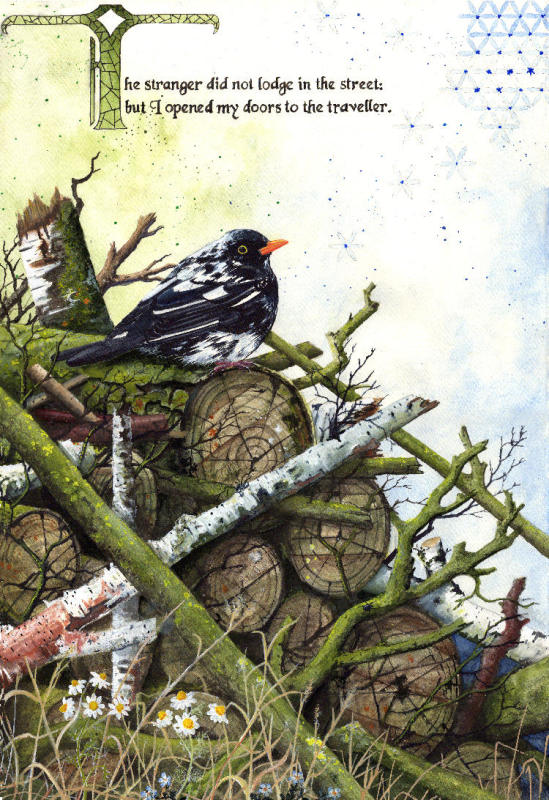 I wanted to paint a blackbird and was looking through my collection of images when I came across this bird. It is Leucistic, not a partial albino. The dictionary defines leacism as a condition in which there is partial loss of pigmentation in an animal resulting in white, pale, or patchy coloration of the skin, hair, feathers, scales or cuticle, but not the eyes. Unlike albinism, it is caused by a reduction in multiple types of pigment, not just melanin. The result, like this piebald Blackbird, can be striking. Sometimes it can result in a completely white bird. And it is not restricted to any one one species of animal or bird, even humans.
​Piles of logs or stones are endlessly interesting, specially if you are a wildlife artist or blackbird looking for bugs.
Snow Buntings on an old Yew stump. I saw these birds for the first time on the Norfolk coast and like all my first sightings, I was highly delighted. I suppose it is a child like quality I have never lost. Yes, of such is the Kingdom of Heaven. I am sure that God takes delight in our appreciation of His Creation.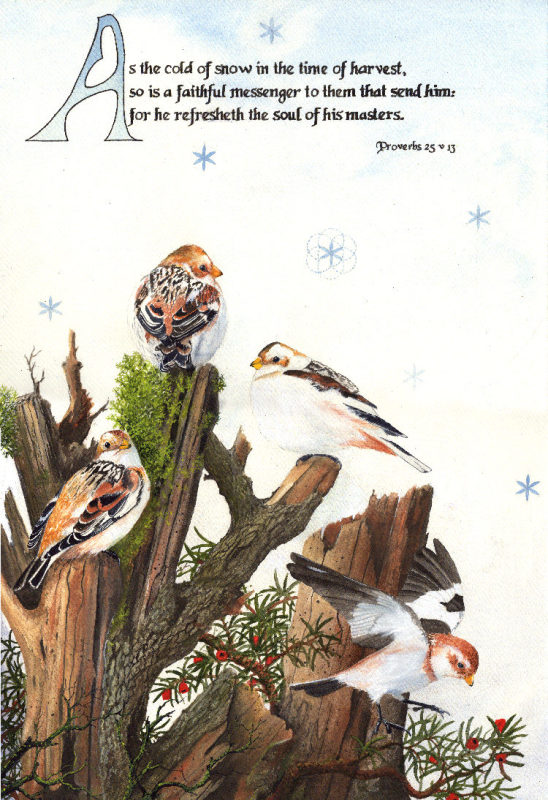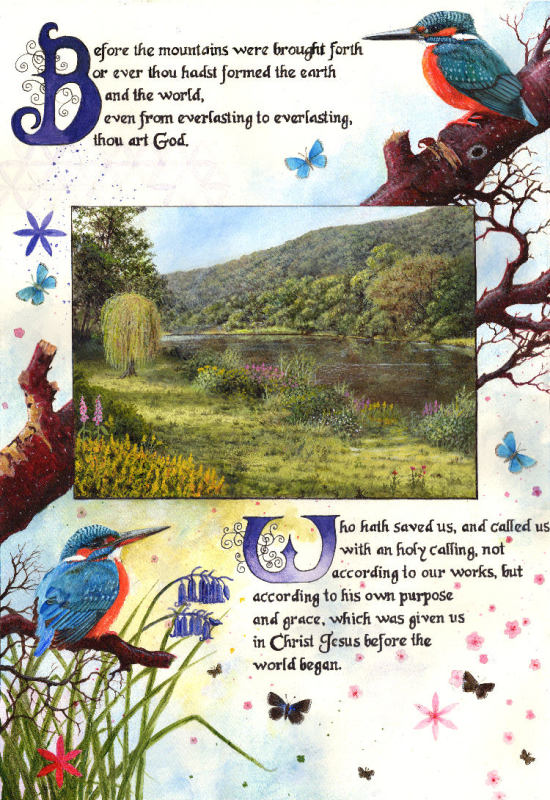 The scene in the centre is a painting of the river Wye. The birds need no introduction  everyone knows a Kingfisher when they see one.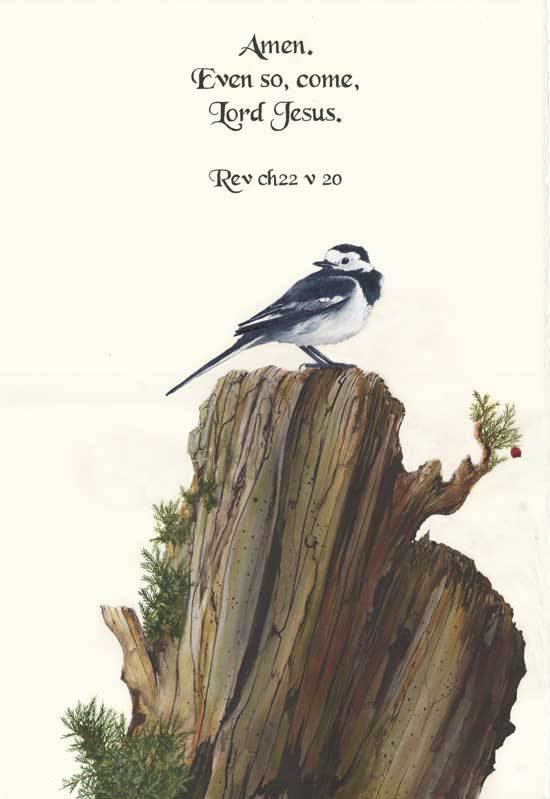 And finally. A Pied Wagtail sitting on an Old Yew stump that has somehow remained alive. Yews can live to incredible ages. Examples over a thousand years old are not unusual. 

The Scripture

The hope of all true Christians is that Jesus will one day return for His Bride the Church. I am not so naive in believing that all that calls itself Christian will be part of that. The responsibility for being one of His is personal, not because you belong to any particular church, or because you were sprinkled as a baby. No doubt many will say, "well, it has been nearly two thousand years and He isn't here yet". These sort of comments have always been around. He is coming, make no mistake. Watch and pray, and do not let anyone tell you otherwise.
All the art  in this Gallery was created using various brands of Acrylic paint on 140lb Fabriano Artistico Paper. 22* x 15* (Does not use animal products in the sizing) I used Rosemary & Co Brushes. (Synthetic) The calligraphy was done by hand using a brush and acrylic ink.
If you would like to leave a comment or ask me a question concerning the art or anything I have written on this site I can be contacted at the following address.