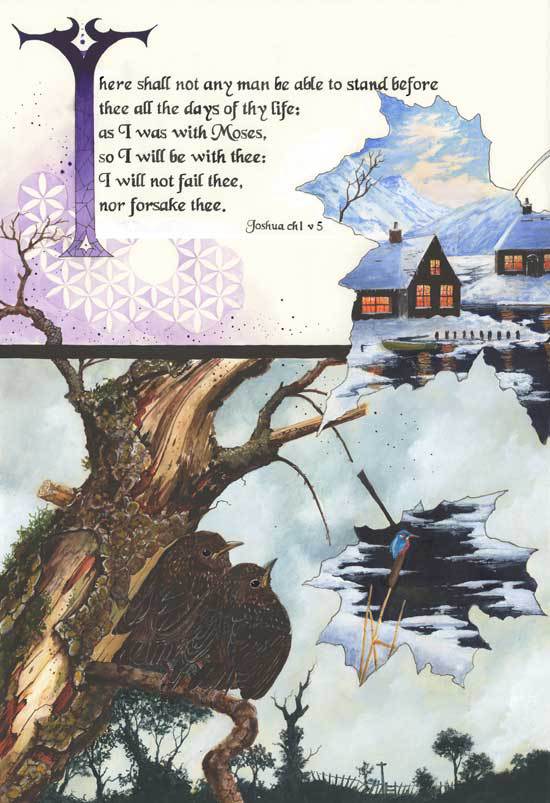 I have used the idea of looking through windows, in this case, leaf shaped, many times. It conveys the idea of different dimensions. Birds are never more vulnerable that when they leave the nest. these baby blackbirds are a bit out of season and I can't remember why I included them in the painting, perhaps it was to do with the scripture and being looked after. of course, I do not need an excuse to paint old trees!
The Scripture


It's good to know. If the Bible were a tin, then as the advert says, "it does what it says on the tin"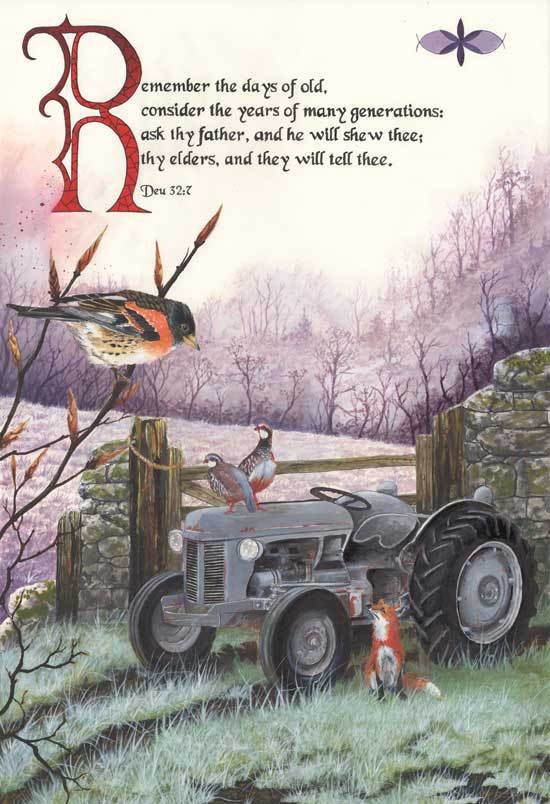 When a friend of mine recently mentioned the tractor he used to drive on the farm where he worked I thought it might be a nice touch to paint one into a picture and include various animals and birds, Fox, Red Legged Partridge and Bramblings, a finch that appropriately visits in the winter. Tractors are not as romantic as a gang working the fields with scythes but probably a lot less work. 
The Scripture


The scripture seemed appropriate to the painting. But it goes beyond that. When knowledge of God is forgotten, other things, harmful to our well being come in.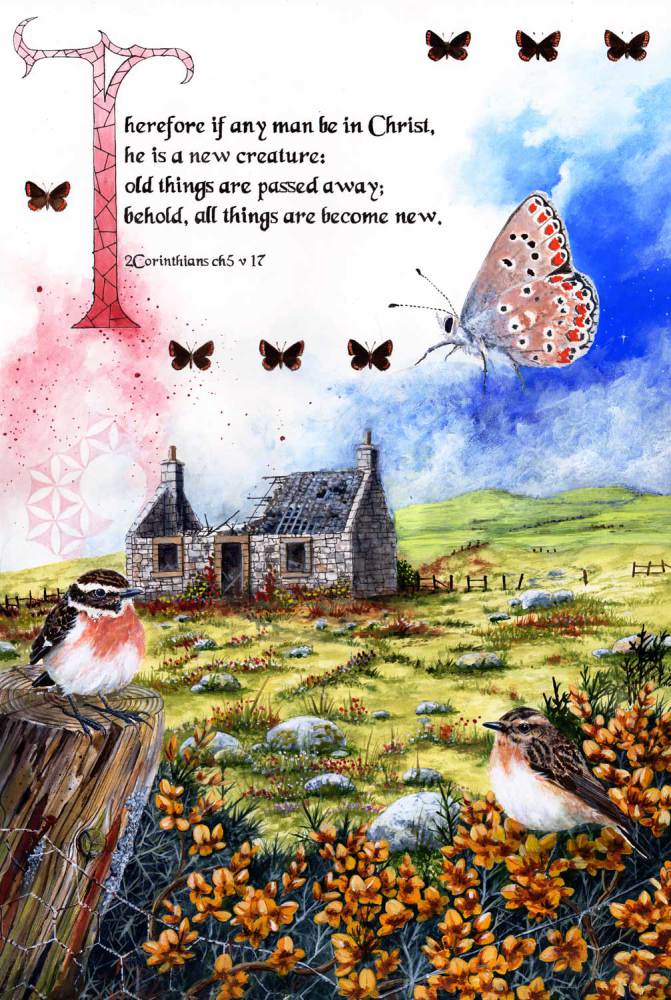 Set against a backdrop of an old derelict crofters cottage in the Shetlands, are a pair of win-chats, lovely little birds that migrate here for the summer. It is interesting that most of what we think of as our birds are actually migrants. The butterfly is a Brown Argos.
The Scripture


Part of what it means to be "born again" a much misunderstood and abused term, which is nevertheless, an essential part of what it means to be a Christian.
Whiskey lovers, which I am not, will recognise the Red Grouse immediately from the advert. I should just mention the drop capital letters. These are great fun to create in and of themselves Bees and heather go together like, well, bees and heather. Honey from heather ranks as amongst some of the best. I thought I would paint in a moody Scottish loch through the church window for an appropriate effect.

The Scripture


Prayer! The soul sustaining food of the Christian. So important and yet , so difficult! But does it need to be so difficult? Maybe it should be as easy as talking to a friend.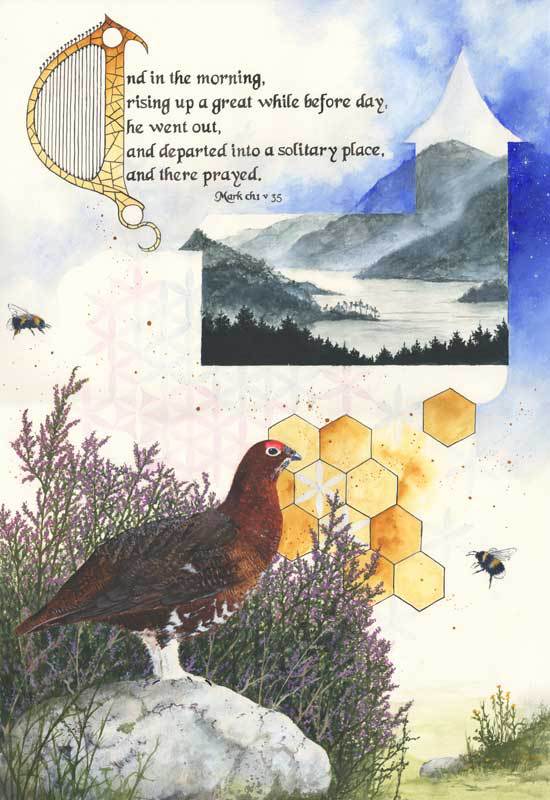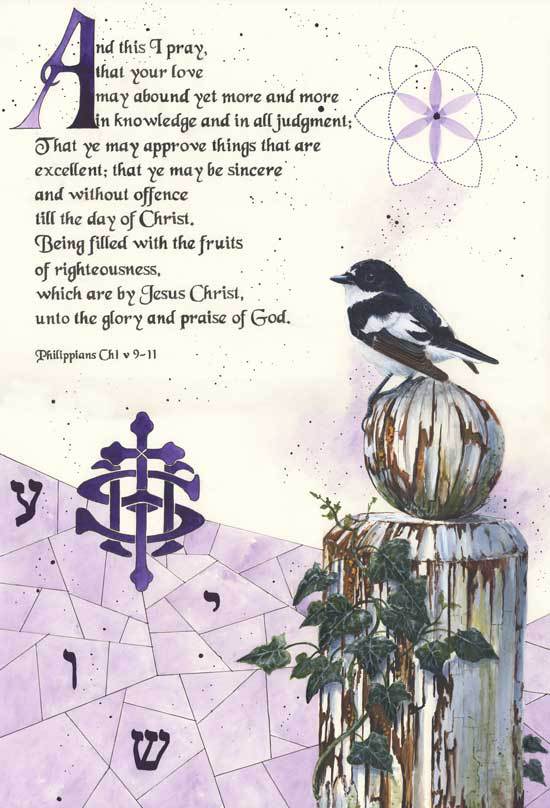 This the male bird in the Pied Flycatcher world. A striking and clean cut individual. Might have to travel some distance to see one though. This one is standing on an old gate post because I like painting old gate posts! In reality they are woodland birds.

The Scripture


If only Christians followed this advice. And I'm as guilty as the next person. But it is at least something to work on and improve in our person.
They really are little ping-pong balls of candy floss. Long Tailed Tits. 
The Scripture


There is a lot to be said for being positive. But if you followed the advice of some self help books it all becomes totally unrealistic.  Imagine a world where everyone willed into existence anything they wanted, which is what some authors teach. It would be hell on Earth. Jesus sought to do the will of His Father. Why would he expect us to do anything less? Not my will be done, but thine. Rejoice in that.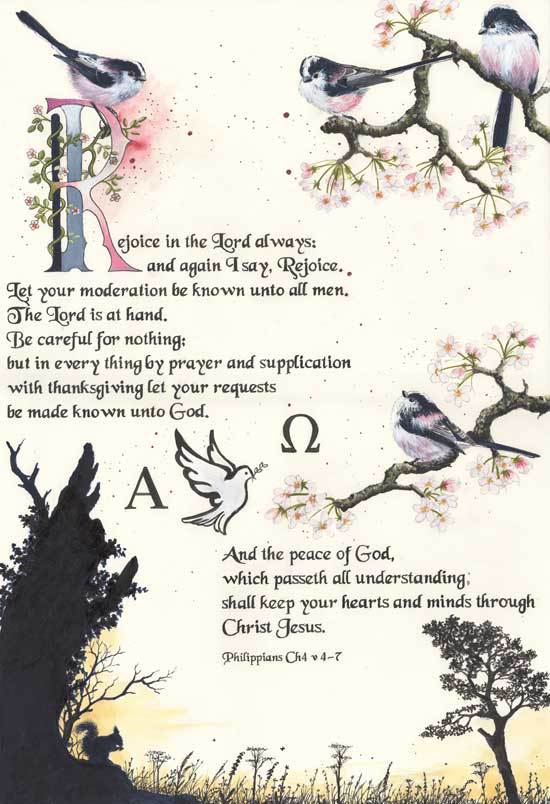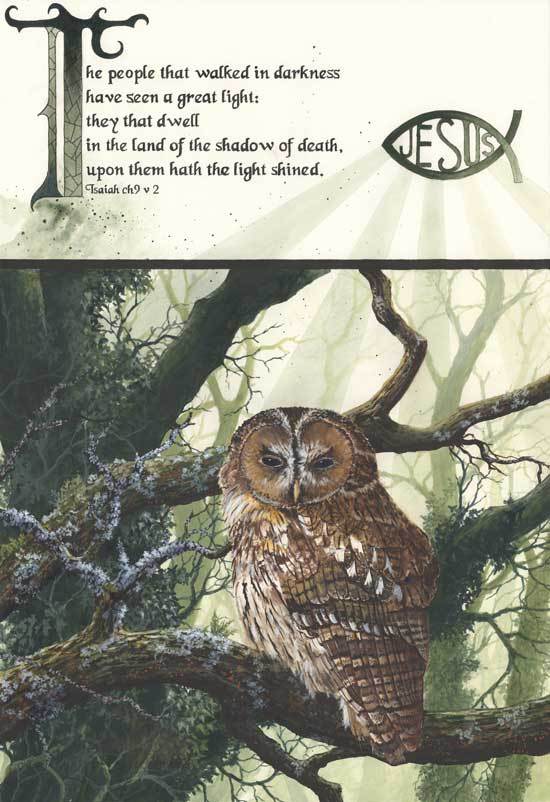 The detail of a Tawny owls plumage is not only a brilliant camouflage but, especially for an artist, really beautiful. These are birds that are fearfully and wonderfully made. Painting the detail of the woodland is never a chore, it  is a pleasure, especially when you get light pouring through the trees .
Bullfinches, originally "Bud-finches", were hunted to rarity at one time especially by irate orchard owners who pointed the finger at this bird as the culprit behind the destruction of fruit buds. The colours of this bird, the male in particular, are outrageous. Black, white, grey and salmon pink. 
The Scripture


There are some mysteries in the Bible which belong to God alone. The great plan of history and the will of God in that matter, determined before the World was created is one of those mysteries that we get only the briefest of glimpses into. Perhaps that is no bad thing. Could our mind comprehend it if we saw more than we are shown? The crucifixion of Jesus was always part of that plan. God provided a way for us to be redeemed in the true sense of the word.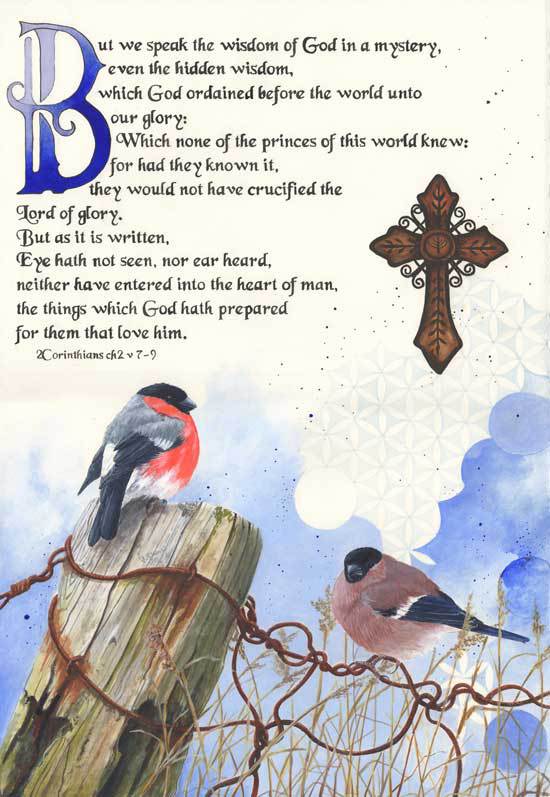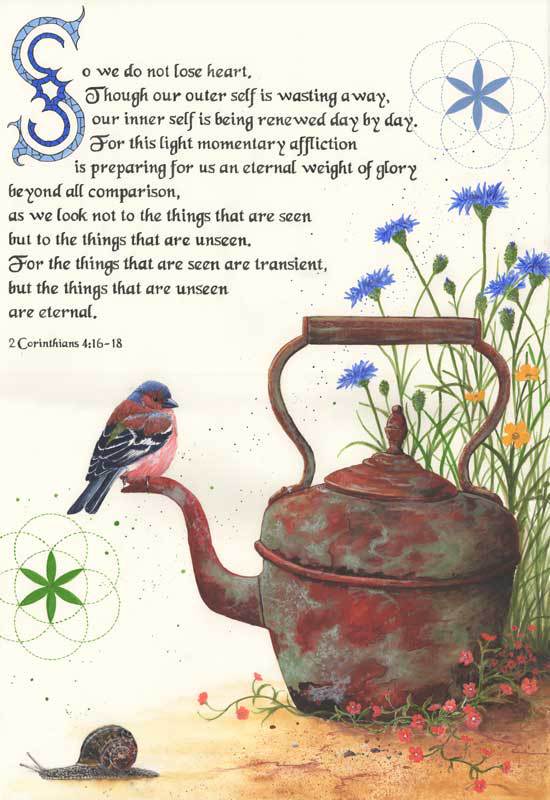 Another member of the finch family, this time the Chaffinch, who is here showing off some of his own beautiful colours. An old copper kettle. Just the kind of thing you are likely to encounter  
The Scripture


Never give up. The World as we know it will one day pass away but that will not be the end. For we are looking forward to the wonderful recreation of Heaven and Earth and the glory of the Heavenly City where we will come at last into the presence of Jesus Christ, and a place where there is no more tears and suffering, either of ourselves and the World in which we live.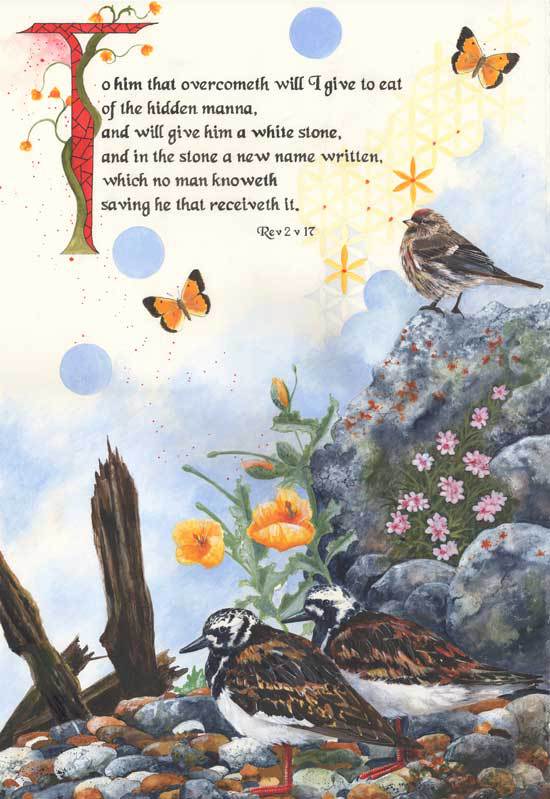 If you want to see Turnstones, horned Poppies and Thrift you will need to go to the coast. Redpolls and Clouded Yellow Butterflies not so much. So why have I brought them together here? Mmm.
the colours. And because I can.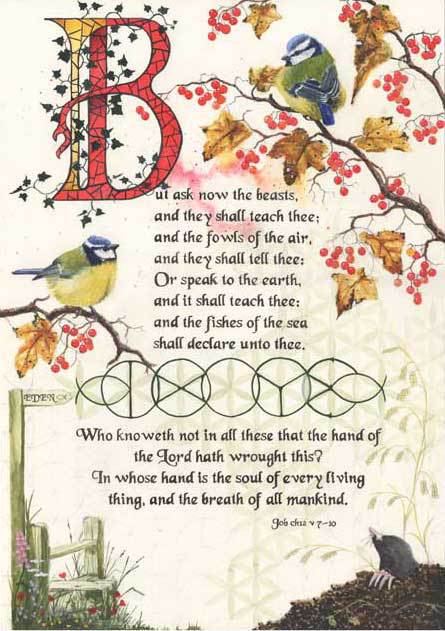 Blue Tits are quite feisty little birds. They can hold their own against larger birds when competing for food. The mole is emerging out of the dark into the light. Kind of symbolic. If you ever hold a mole in your hand you will discover that its fur can be brushed in both directions which is why at one time its fur was quite highly prized.
The Scripture


Nature speaks to us in quite plain language of a Creator. If we have the eyes and ears for it. I cannot remember a time, even when I wasn't a Christian, when I believed in Evolution.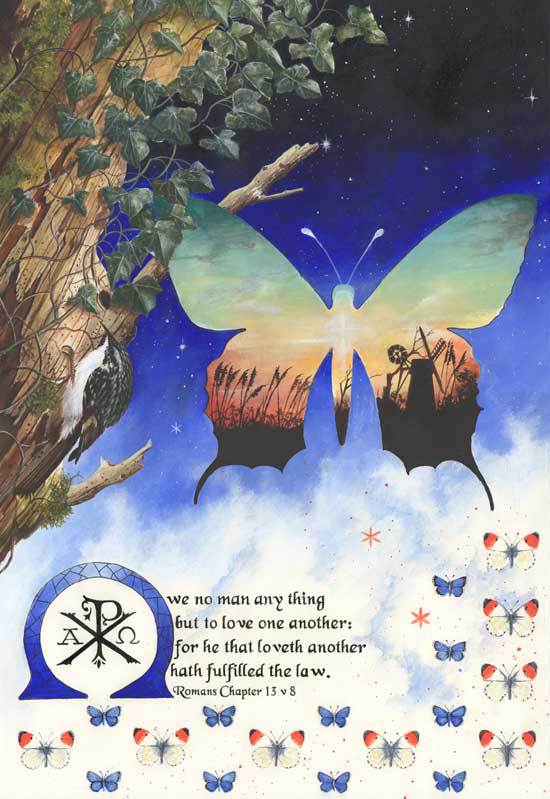 The window is in the shape of a Swallowtail butterfly. And the silhouette is of the Broads which is the only place you are likely to see this butterfly in Britain. The small bird is a Treecreeper, a bird which gets its name by running vertically up trees. Holly Blue and Orangetip butterflies complete the decorative design. 

The Scripture


The law being spoken about here is the commandment to love thy neighbour as thyself. Even for the unbeliever this is world changing advice. If only.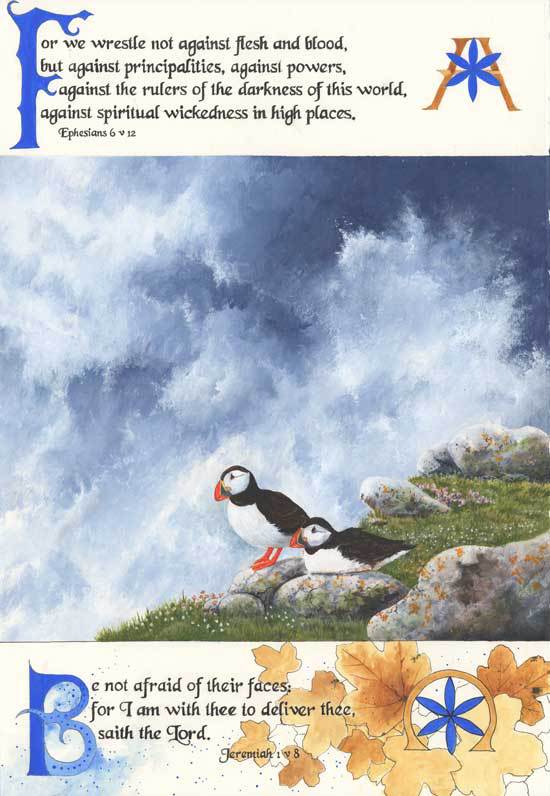 What can I say about Puffins that has not been said already? They are comical in a sad sort of way. And they face so many dangers from predators that your heart goes out to them and you wish you could protect them. How do they manage to catch and carry so many fish in their beak at the same time? Amazing little birds.

The Scripture


Human beings are, for the most part, blissfully unaware of what is going on in the spiritual realms around them. Perhaps that is just as well. For the Christian this spiritual war in the angelic realms is a given. We have God and his angels on our side, we need not be afraid of their faces.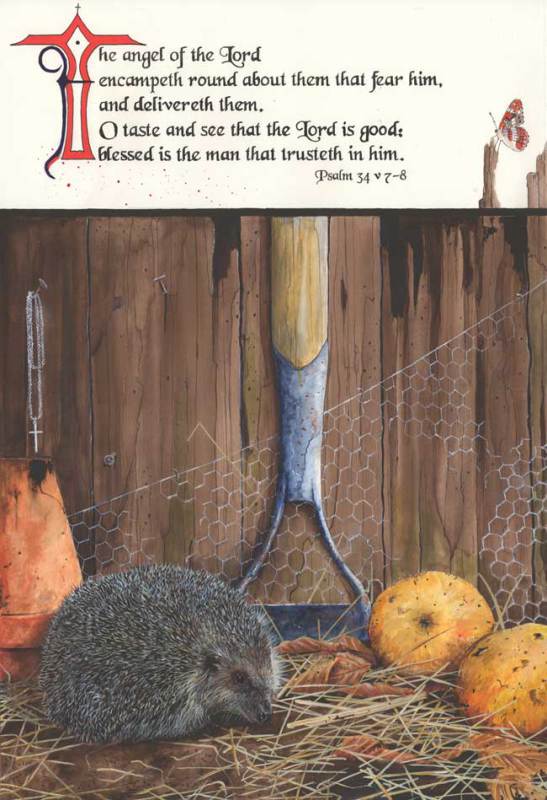 Hedgehogs are strictly creatures of the night. If by chance you do see one in daylight the chances are that it is driven by hunger or desperate need. Modern gardens with their enclosed systems do not do this lovely creature any favours because they inhibit its movement and the availability of food. And garden sheds with lots of strange and wonderful things in them are an Aladins cave of delight to the artist

The Scripture


This scripture follows on from the last one and confirms the Christians sense of being protected. Yes, we all must die one day, but not until God says so. Then we will see it, the far green country. That is indeed a comforting thought.
This painting was inspired by something I saw sitting in the corner of a farmers field up in Norfolk. I say something because I have no idea what it was. Perhaps, as they grow a lot of beets up there, maybe it was something to do with that. Anyway, it was old, rusting and just the sort of thing I like to paint. It just seemed the right thing to do to perch a Kestrel on there with a flock of Canada geese flying by.

The Scripture


The second coming of Christ is such a hotly debated subject, with so many contrasting views on it, there is no way I am going to enter the debate on it here. Jesus said that He was coming back and that we were to watch and pray for Him. That's good enough for me.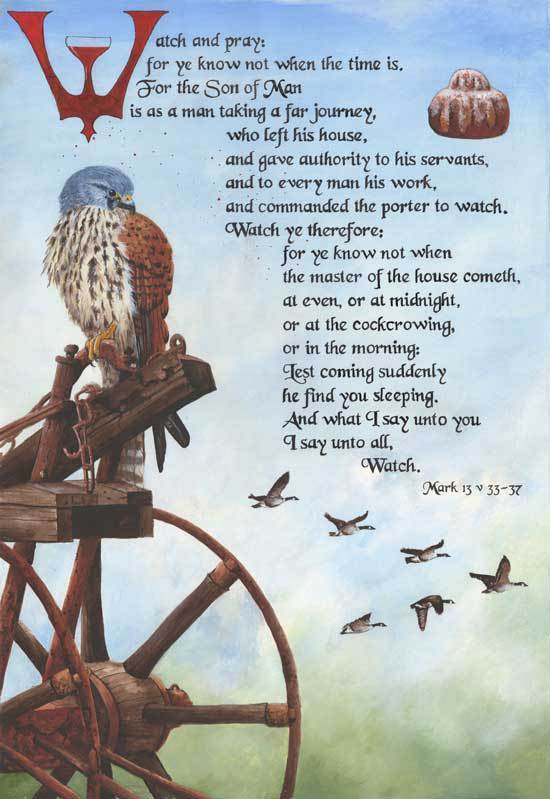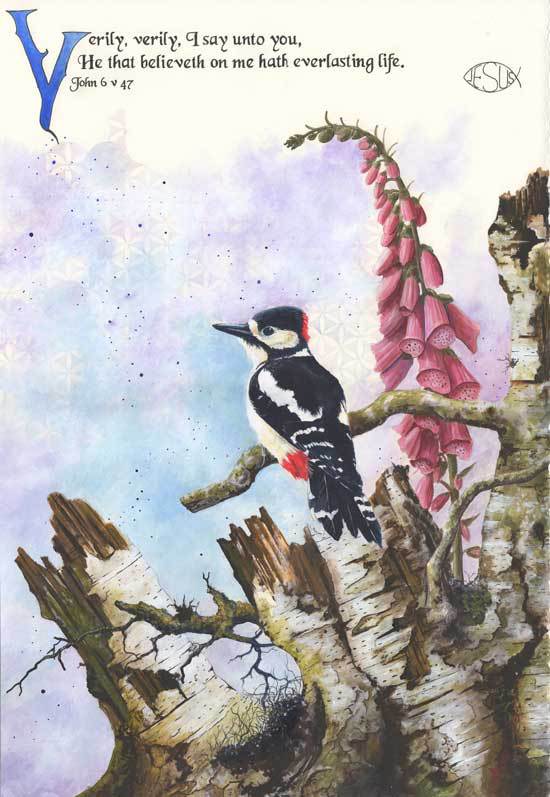 Great spotted Woodpecker. This is the male bird. He has a red patch behind his head and is slightly smaller than the female. Well, hardly life changing infomation. but no doubt it is important to woodpeckers! I was quite pleased with the clour combinations in this painting. It seemed to work quite well. Foxgloves are always lovely in any painting. And once again, and old Birch tree. I just can't help myself.

The Scripture


Here it is, plain and simple. If you want eternal life, there is only one name, Jesus Christ. No other name or sacrifice, or religion, will do it. 
​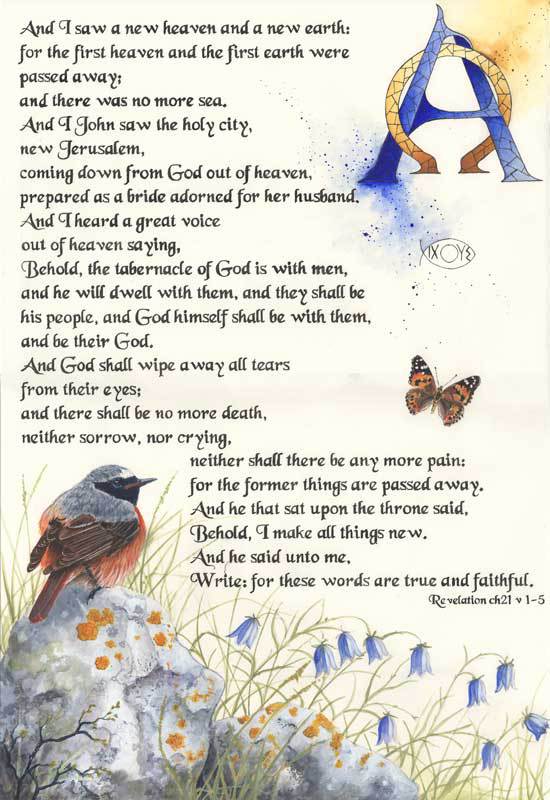 Another member of the Chat family which includes Robins, Flycatchers and Stonechats. This one is the Redstart. I have elsewhere painted a close relative, the Black Redstart. I think perhaps they are my favourite family of birds. I have certainly painted enough of them. Check out the Blue Apocalypse section and you will find another painting of this bird. The flowers are Harebells. Much more delicate than the Bluebell. It is quite exquisite.

The Scripture

This is a wonderful piece of scripture. Unfortunately, the only time anyone gets to hear any of it is at funerals. But it is the city, written about by John Bunyan in Pilgrims progress, that Christians are looking for. No earthly city will do.
​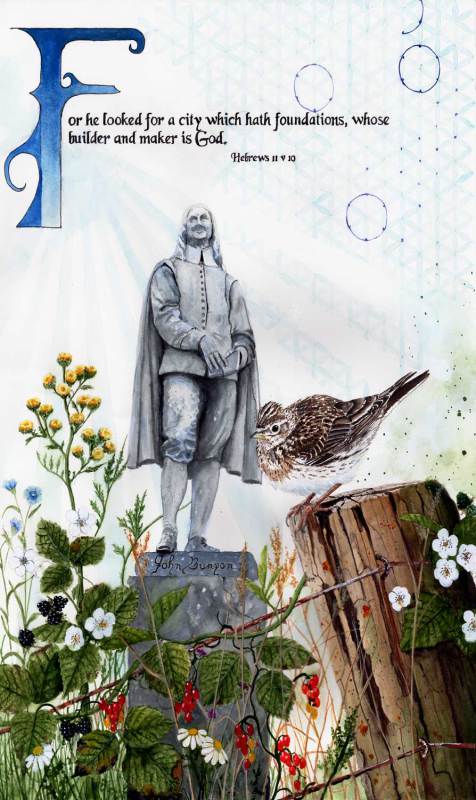 The statue is of John Bunyan, the writer of Pilgrims progress, erected in the city of Bedford. Ironically he seems to have spent a considerable part of his life there in prison for doing nothing more than preaching the Gospel. Throughout the book he wrote frequently of the "Celestial City", aka, the New Jerusalem which all Christians look forward to. I therefor painted in a skylark, which sings as it rises into the sky.

The Scripture

I think I have pretty much summed up this scripture in the above! 
All the art  in this Gallery was created using various brands of Acrylic paint on 140lb Fabriano Artistico Paper. 22* x 15* (Does not use animal products in the sizing) I used Rosemary & Co Brushes. (Synthetic) The calligraphy was done by hand using a brush and acrylic ink.