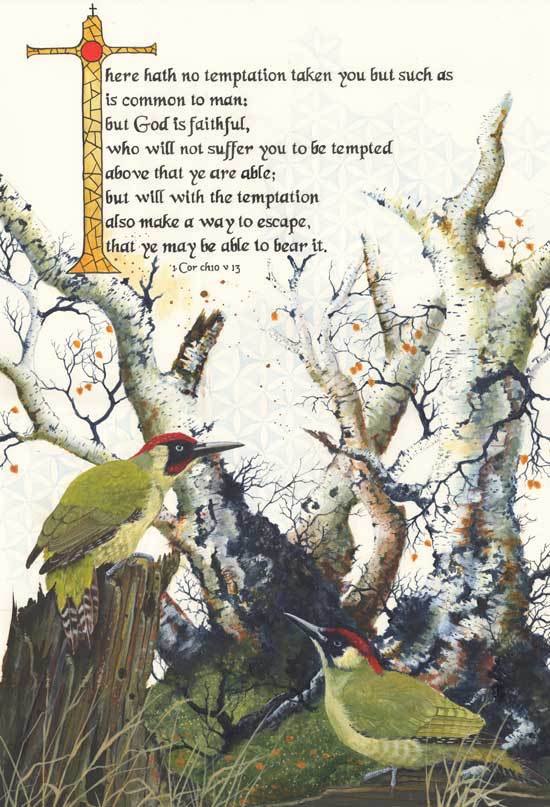 You are more likely to see a Green Woodpecker (Yaffle) on the ground than in a tree, that is because the main part of their diet consists of ants. Silver Birches are simply beautiful trees especially as they mature and become gnarled and full of character.  
We often make excuses for our behaviour, but what it comes down to is really a matter of choice. We choose to do the things we do. Fortunately ,by the Grace of God, we can turn around. We can escape, so to speak,  
​

Wrens, will, and do, nest in the strangest of places and are not averse to nesting in garden sheds and outbuildings if the doors are left open. The also build the most wonderful little domed nests, which are built by the male bird in the hope of impressing a female. (Jenny) But after mating is over the male plays no part in the rearing of the young. I took this opportunity to paint a lot of old tins. I love the challenge of the different surfaces and textures. 
There are not so many peaceful habitations these days, so I look upon this scripture as a prophetic glimpse into the future.
​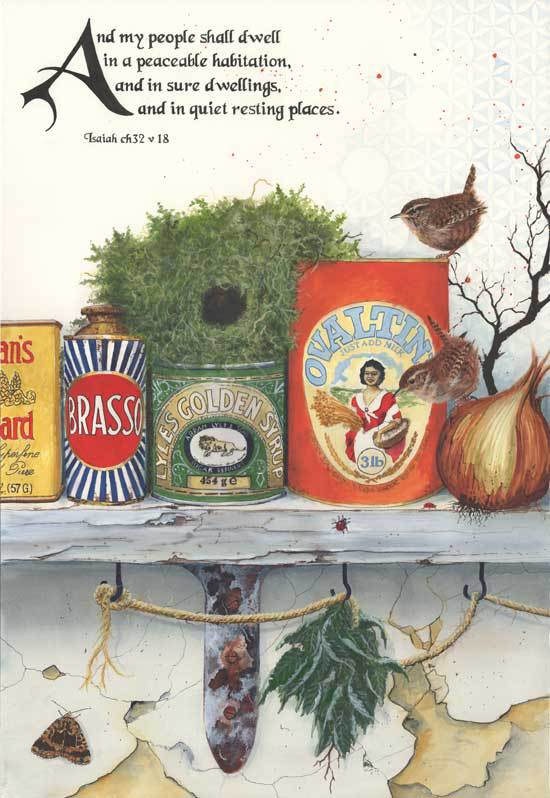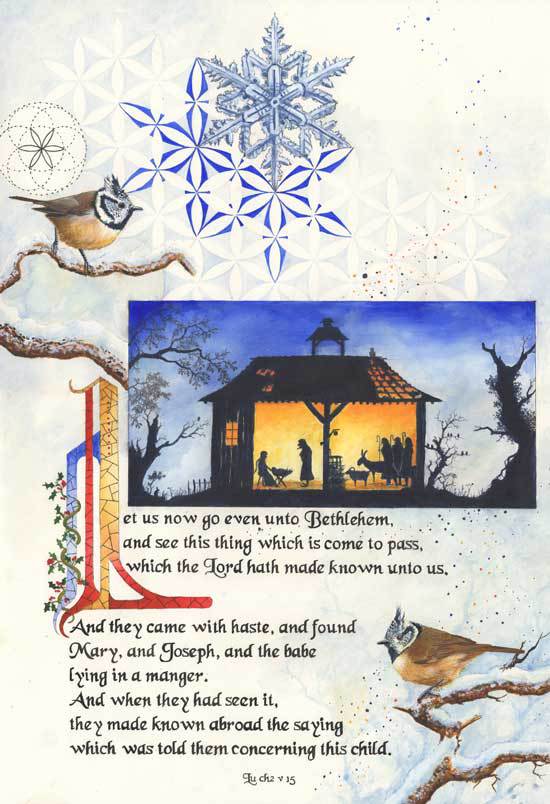 It does not get much more Christmas than this, does it? I really doing silhouette work and the detail that can be achieved. Look closely and you will see various little creatures. The birds are Crested Tits, which if you want to see them in Britain you will need to travel to Scotland.
The birth of Christ has been reduced to a seasonal excuse for over indulgence and greed and the original meaning lost. It is clear however, that God intended this event to be a joyous occasion. My art here reflects that sentiment. I don't personally hold that the winter solstice was the time of his birth, that was a pagan concept, but it is the event which is to be celebrated not the time.
​

Pheasants come in all sorts of colours. These are two cock birds, not a cock and hen. Winter landscapes for an artist is full of exciting colour too and presents a new set of challenges to paint.



The Scripture


The borders of the earth? Is it talking about national boundaries, or literal edges of the Earth? The ancient mindset was very different to our own. Their world was flat, not round.  Just recently I have been looking at the photographic evidence presented by Nassa. The scale of Nassa's fraudulent claims is staggering. Maybe, just maybe, things are not necessarily what they seem, especially the so called photographic evidence. 
​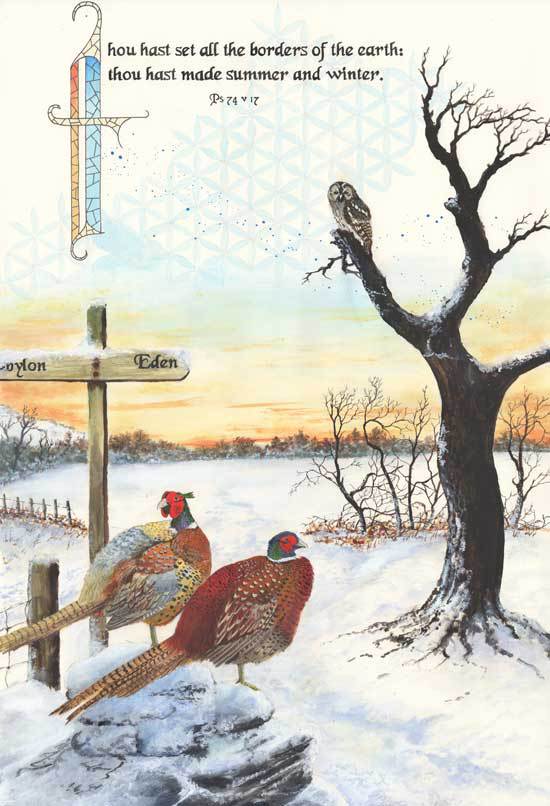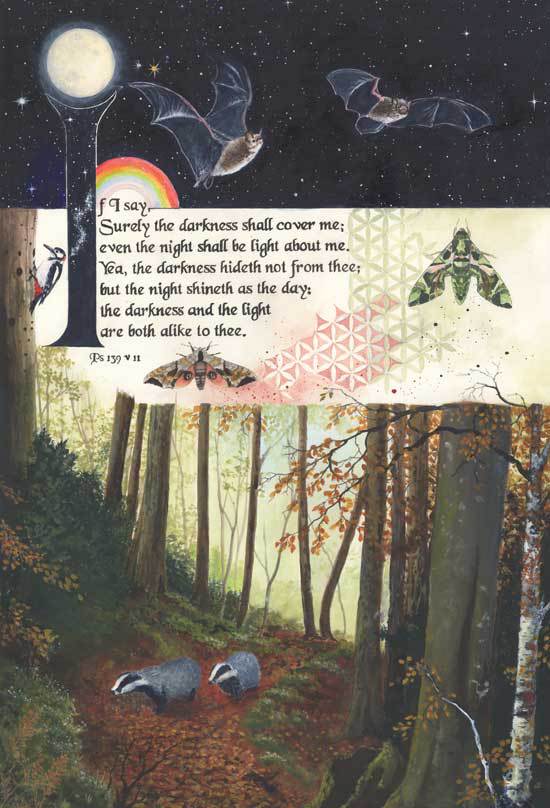 How many people have seen a badger in their natural environment? They are creatures of the night. I think these two are just going back to bed after a night foraging for food. The bats are Pipistrelles, the smallest of the bats found in Britain. Their bodies are only an inch in length. I dare say their diet would include the moths I have painted here. (Lime and Orleander Hawk Moths)




The Scripture


There is nowhere where God is not present, or anything that He does not see. All things are known to Him and He delights in all His creation, creatures of day and night. 
​

I had a lot of fun designing this piece of art. Silhouettes and skies and multiple windows on different vistas. The birds are Stonechats. A little bit smaller than Robins but the same family. Gorgeous!
Once again, a description of Gods love and relationship to His creation. 
​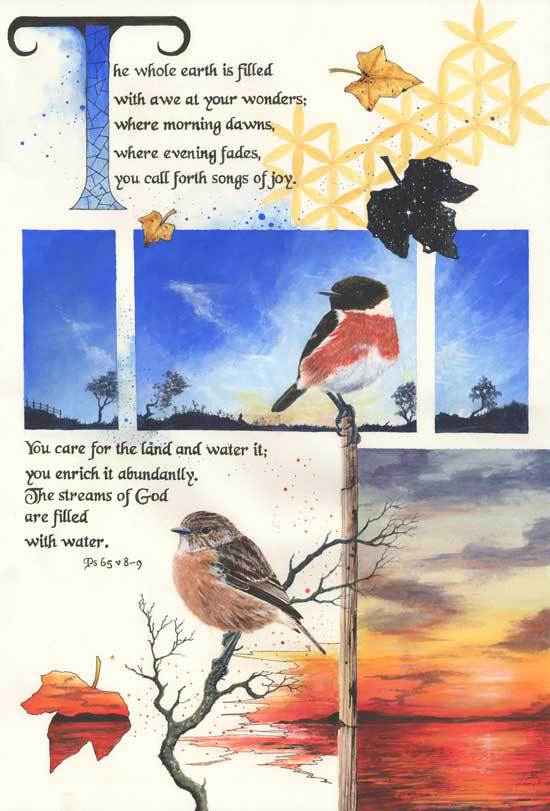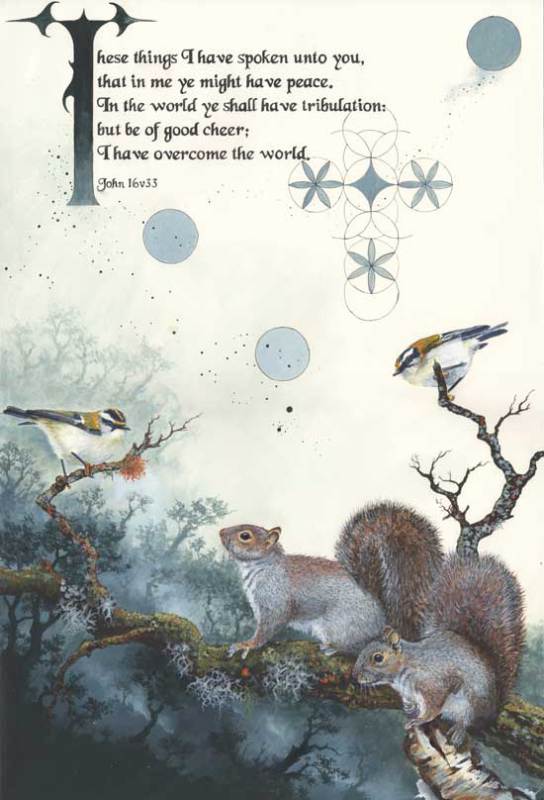 Squirrels again and another confrontation. This time its Grey Squirrels and Firecrests. Lots lichen and moss too.
Troubles come to all of us without exception. Only the degree of trouble varies. The Christian however, is aware that sometimes there is another dimension to it. But we should not be too quick to apportion blame to the powers of good or evil. It could be either. And sometimes we just bring it on ourselves. The condition of the Earth and the blame for it lays squarely at our feet.
​
The Hobby is our smallest Falcon. They are fast and capable of catching swallows on the wing. The also catch Dragonflies a fact which does not always go down so well with lovers of Dragonflies! I once saw more than twenty of them at once at
Dungeoness nature reserve, preparing to migrate back to Africa for the winter.



The Scripture


There is only one God. One creator. One saviour.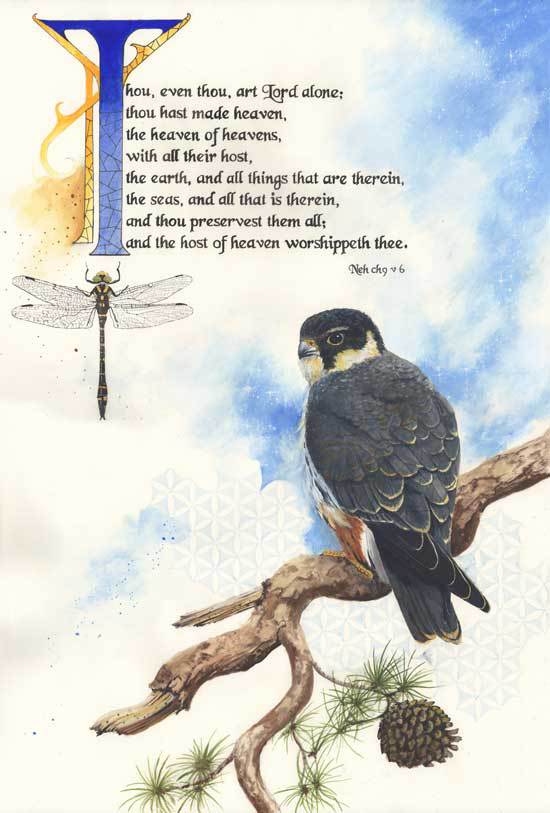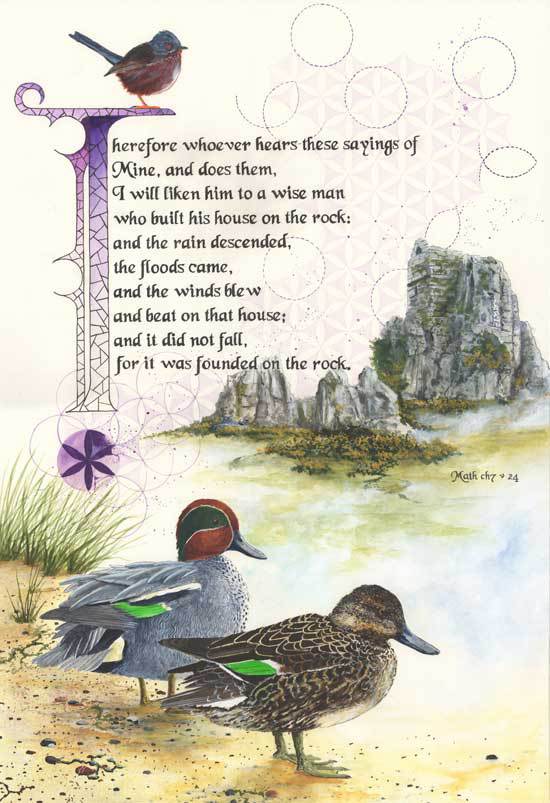 From the smallest Falcon on the previous page to the smallest Duck. They really are lovely. That flash of green on the wing has a metallic sheen to it. The small bird above them is a Dartford warbler. Strange little birds with red eyes and wine coloured breast. The background is Roche Rock, a hermits cell in Cornwall.
The Scripture


Timeless wisdom from the lips of Jesus. His promises are sure.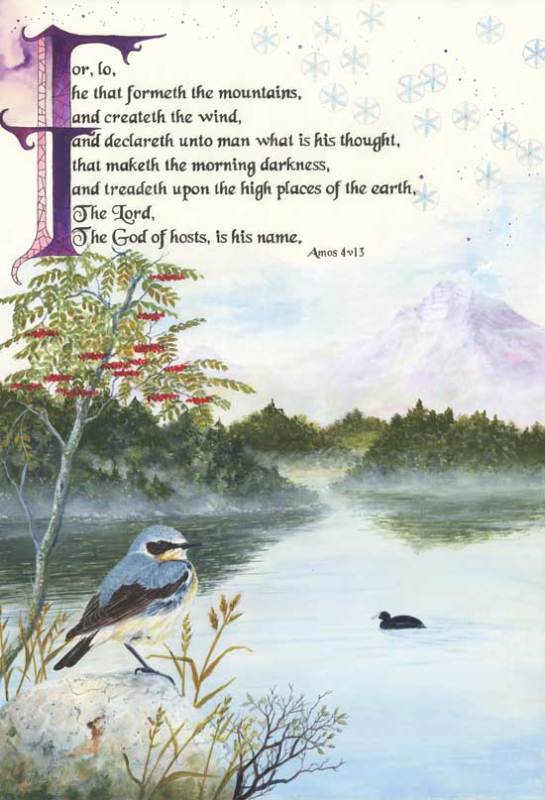 There is just something about early morning walks by lakes and ponds. Still waters are peaceful places. Good for the soul. The bird I have painted here, a Wheatear, are not normally associated with water, they are more upland kind of birds. 
The Scripture


We live such busy lives it is easy to forget our place in the bigger picture. We are surrounded by a wonderful creation which we are meant to both look after and enjoy. 
There are some pictures that are exciting to do. I enjoy doing them all, but paintings like this one are kind of special. I keep telling myself to do more still life paintings, or at least include that element in the painting. Here is one such painting. The birds are called Little Owls for  reason. They really are little, six inches tall! The butterflies are Peacocks, more illustrative than a true posture.
The Scripture


We have, in this World upon which we depend, everything we need to live. I am talking about mankind in general. Some people are clearly more fortunate than others. It is only mankind's indifference and greed that we have the problems we do. A right relationship with God would be a good place to start to put things right. I do not believe that man in general has the ability or will to put the world to rights.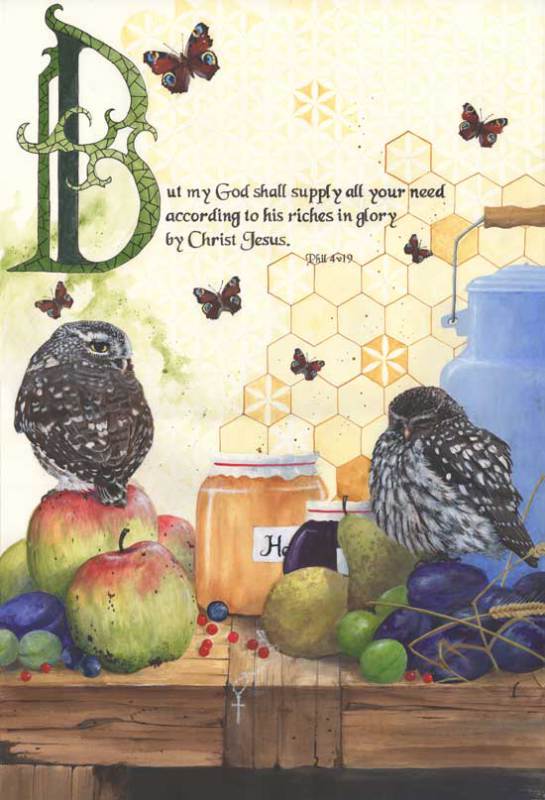 Shepherds, sheep, and a bright star in the evening sky. Has to be a silhouette picture of part of the story of Christ's birth. The birds are Waxwings and they really are as soft looking as this. They can flock in quite large numbers wherever there are berries to gorge upon. It is not unusual to see them in supermarket car-parks.

The Scripture


Another quote from Amos confirming the role of God in Creation. The world of Nature absolutely shouts out loud, "there is design here. "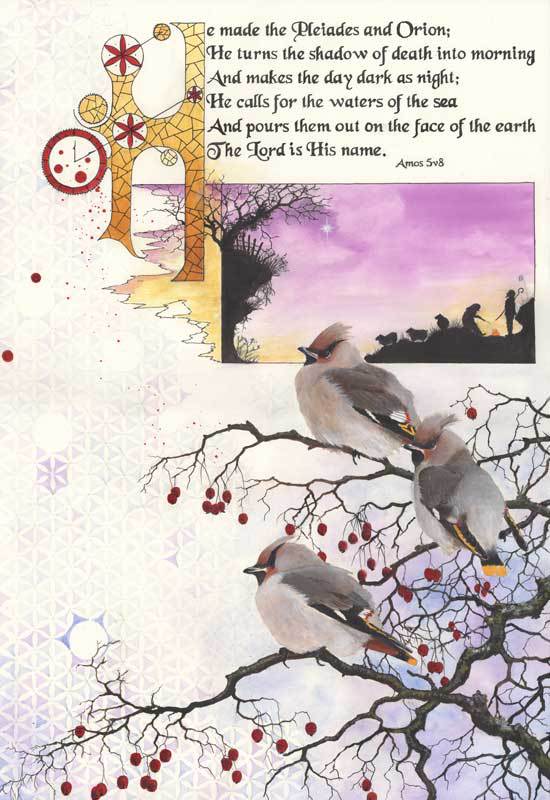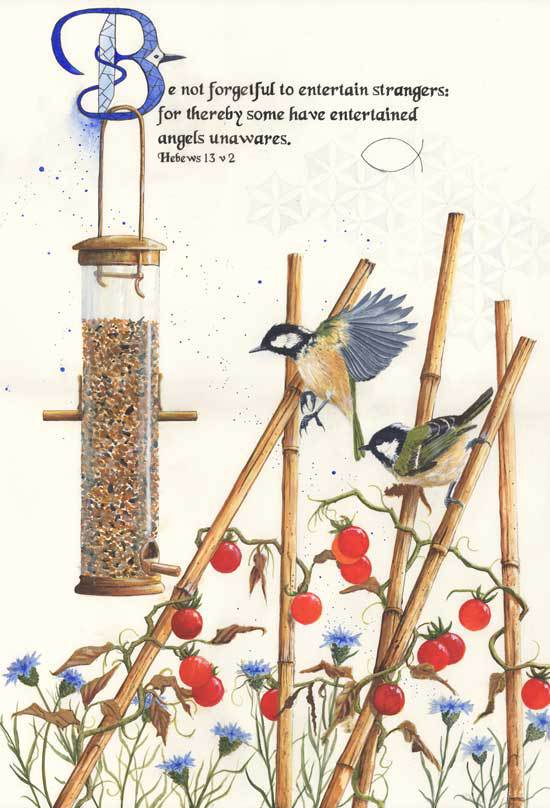 Coal Tits. Such beautiful little birds. But you are not likely to see them in your garden. They will come to feeders if the garden is on the edge of woodland which contains coniferous trees. I am generalising of course, and there will always be exceptions, but that is a general rule.
The Scripture


Hospitality was a common feature of most ancient cultures and a shame to the offender who did not practice it. That it appears here in the scriptures should come as no surprise.
The coastal scape is St Michael's Mount in Cornwall which is accessible on foot once the tide goes out. Fascinating place, well worth a visit. Once the tide comes in the mount becomes an island, very much like its French equivalent of the same name. The art is pretty much explained by the text, a light under a bushel. The bird is a Black Redstart. It is essentially a black Robin. Same family, size, shape , etc. The difference is that it is migratory, coming here for the summer.
The Scripture


As Christians we carry the light of Christ within us. It is not a thing to be hidden but shouted about.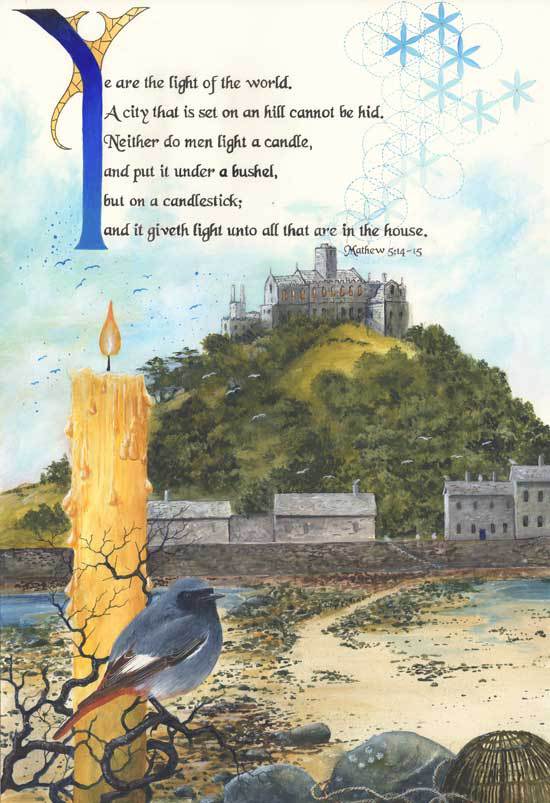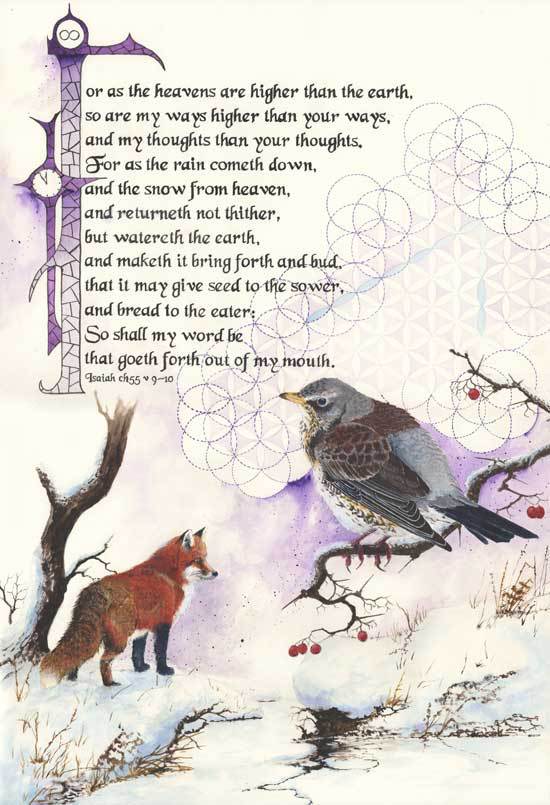 Fox has his winter coat and is on the hunt or foraging for food. They don't hibernate, so winter is a hard time for them. Lock up your chickens! There are two Scandinavian thrushes visiting Britain in the winter. I have already painted one of them, the Redwing. This is the bigger of the two, the Fieldfare. Their colours really are quite striking. When they arrive you can bet that cold weather is here also or close behind.
In complete contrast to the previous page, this one is late summery. The baby Robin looks grumpy as only baby birds can! The Robin has to be Britains favourite bird and the most well known, usually because of a Christmas card. These two are perched on top of a classic British style.
The Scripture


A controversial scripture this one. It is a reference to salvation, which is a scary thought for some. But it does not have to be scary. Jesus Himself is the narrow Way. You can trust Him. It is a straight gate and narrow way and few, not many, which find it. Controversial indeed! I make no apologies for what some, rightly so, view as a narrow point of view. I am a Bible believing Christian. Not perfect, but I do believe.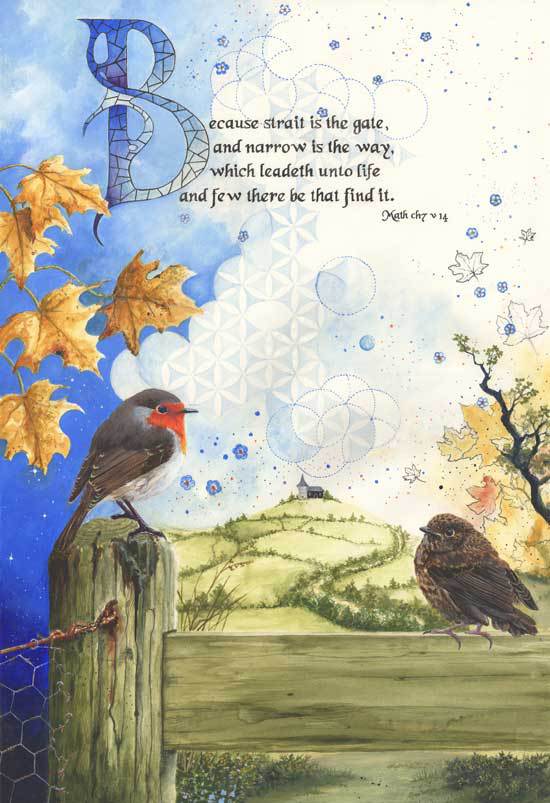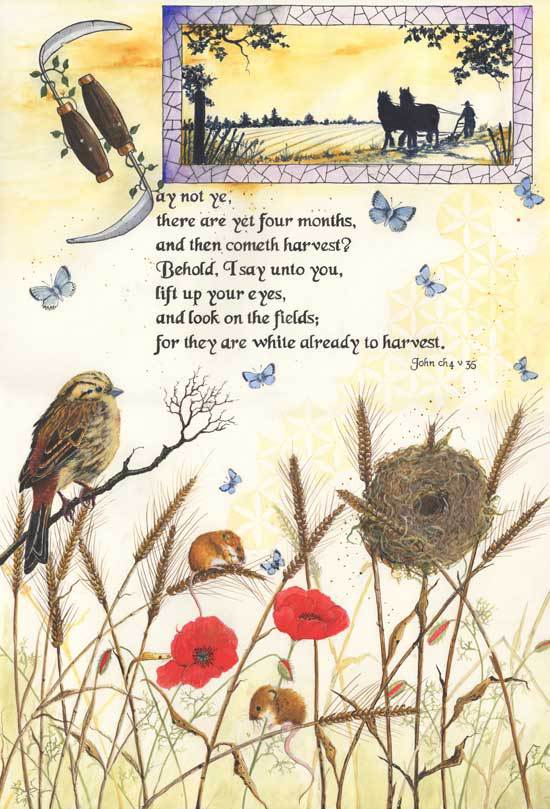 The Yellow Hammer at the height of its glory is almost canary like in colours. In fact, many unwittingly think a caged bird has escaped when they see one. In days gone by it was locally referred to as a "Bessie Bunting" because this term was also used to describe a particularly beautiful woman. How times change! The little cameo silhouette are the same shire horses and Amish gentleman I painted earlier, only now he has finished his field and is about to retire for his tea. Harvest mice are really cute, hardly bigger than an old penny. 
The Scripture


Jesus was using a play on words here. He was talking about people. You and I.
I had a slight change of style with this one. I did the background in pencil. Occasionally I like to switch mediums, just to keep my hand in, so to speak. The birds, which do look like small parrots, are Crossbills ( and no prizes for guessing how they got their name) It's difficult to capture the metallic sheen to their plumage which seems to shimmer in sunlight. Their beaks are specially adapted to picking out seeds from pine cones.
The Scripture


Light is everything to an artist. Ask Turner! To a Christian the Light is everything!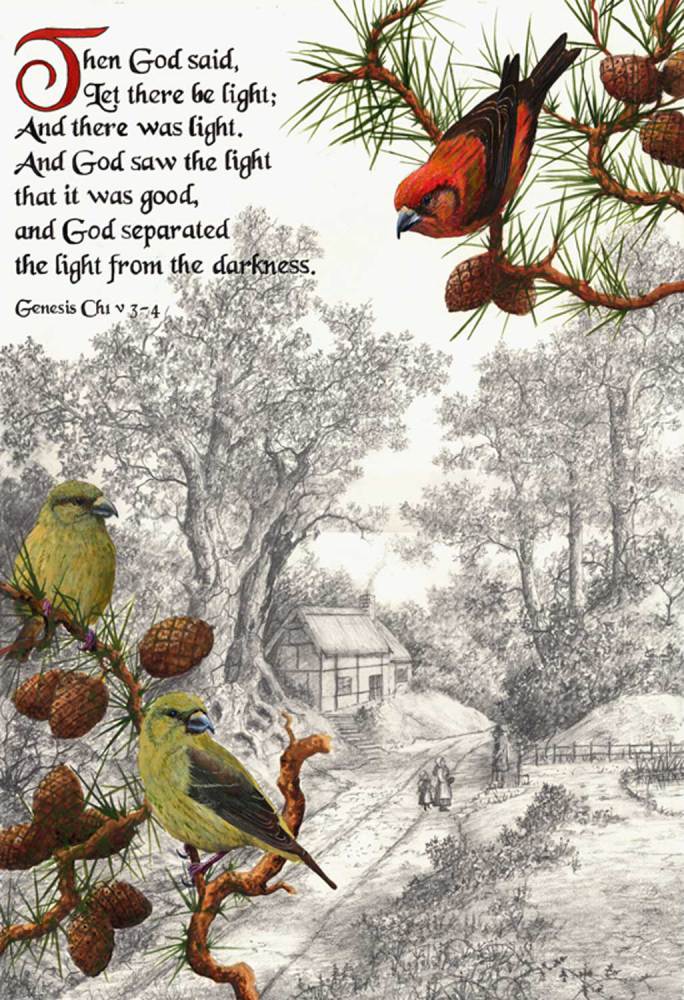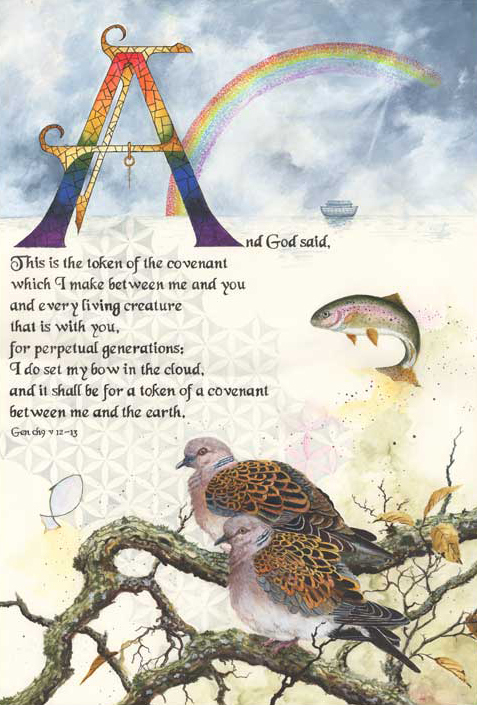 Rainbows are beautiful things, everybody loves them. They belong to everyone to appreciate. The birds are Turtle Doves now a rare bird because of trapping on the Isle of Malta and other places on their migratory routes. The leaping fish is a Rainbow Trout.
The Scripture


God keeps his promises. 
All the art  in this Gallery was created using various brands of Acrylic paint on 140lb Fabriano Artistico Paper. 22* x 15* (Does not use animal products in the sizing) I used Rosemary & Co Brushes. (Synthetic) The calligraphy was done by hand using a brush and acrylic ink.
If you would like to leave a comment or ask me a question concerning the art or anything I have written on this site I can be contacted at the following address. 

crowman24@hotmail.co.uk
​