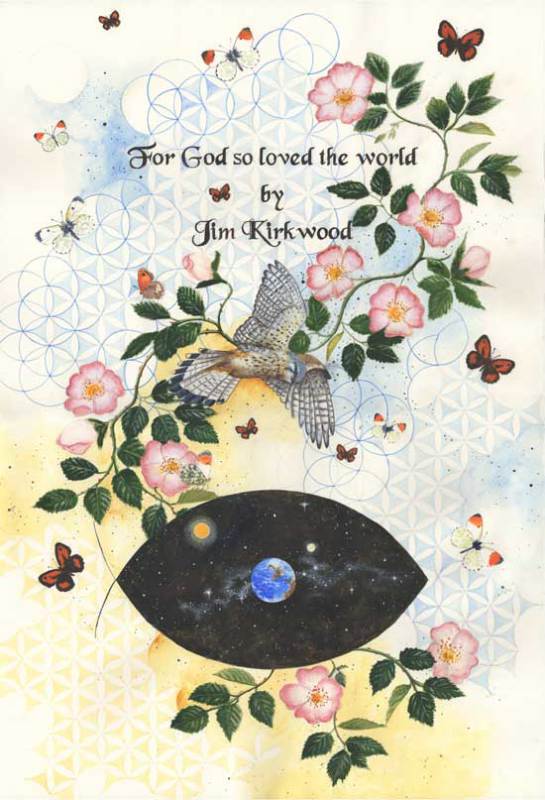 I love the combination of Hovering Kestrel, Orange Tip and Copper butterflies, Dog Rose. The colours, blues and ochres work, well together. But there are aspects of the painting, specifically what is taught about the Globe Earth and Space, I no longer believe in. I have a deep mistrust of anything the various space agencies, especially NASA who have been proven consistently fraudulent, have to say. Their representatives openly blaspheme God and think they are clever doing so. Their so called science is increasingly theoretical with no basis in proven fact. I know whom I have believed, and it is not NASA. Nevertheless, the concept of the Ichthys as a window on creation I still like. As a title page it has some merit. Maybe I will repaint it one day more in keeping with what I believe rather than what "so called science" would have us believe.
I need to say something about the geometric patterns in this painting which consistently reappear throughout the art in this gallery. The Ichthys is based upon this pattern of inter-locking circles, seven of which will form a six petal flower. I am aware that the New Age Movement has hi-jacked this design for its own purposes, as it has every other pattern or design. These patterns appear quite obviously in God's creation so I make no apology for their use. I use it quite randomly in my art to tie various parts together. It has no meaning for me other than the Ichthys, a symbol of Christ as Creator. (The Word) And yes, I believe in creation, not evolution, which to me is a blatantly stupid invention. Thank goodness people are waking up at last to the knowledge that Darwinism has never been proven.
 This is really a frontpage to this gallery. A decorative piece if you  will. The two birds, despite their similarities are different types of the same species. Top to bottom, Great and Coal tits. There are all sorts of fruit, flowers and berries, starting from the bottom left Bramble and Rosebay Willowherb, Wild cherry, Alder (which does get katkins and cones on them at the same time) apple, (a bit obvious but I like painting them) Woody Nightshade, Sloe, Bellbine, Chickory, Lords and Ladies and Celandine. 
I does what it says it does, so to speak. That is my experience.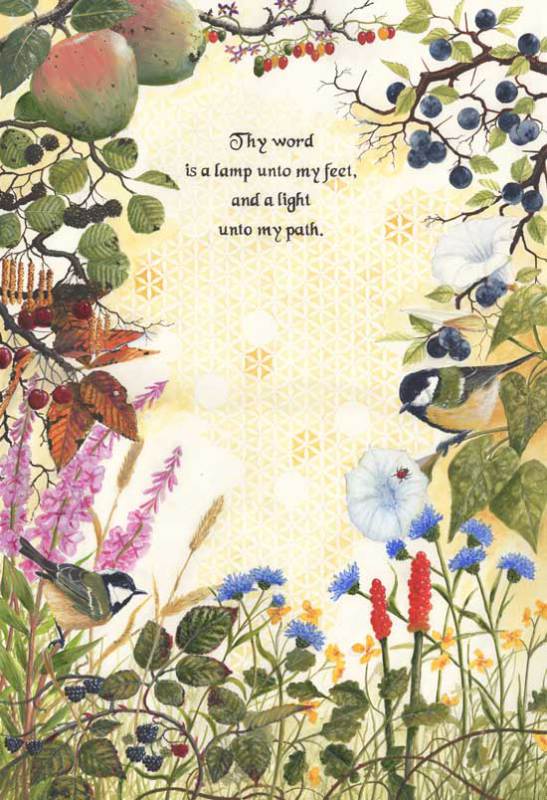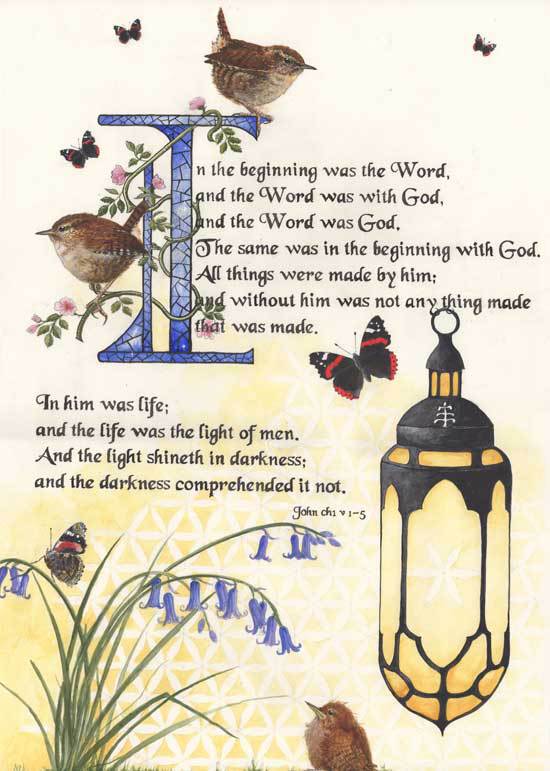 I don't know if I have a favourite bird but wrens must come close. I have painted quite a few of them over the years. The baby Wren at the bottom of the pic, looking up at the Red Admiral butterfly, is a bit on the cute side. I don't care! And a woodland full of Bluebells!!!!!!!!
There is no more powerful statement made about Jesus Christ as the divine Word who spoke Creation into being. Unlike the Gospels of Matthew and Luke, John begins by restating Genesis, "In the beginning" There is an element within Christianity to try and separate the God of the Old Testament from the New Testament. This scripture destroys that argument. The old and new Testaments are two parts of one whole, and if you know what to look for you will find Christ in the old testament as well as the new. 
Yes, I know there is more to the words of Jesus than positive affirmations of his love for those who are his and called according to his purpose, but it is still good to know. 
I do like unusual combinations. In this case, Cherry blossom, House Sparrows and a rusty old water-pump set against the village of Bilbury in Gloucestershire. This is Cider with Rosie country. I used to live near here. The two coins in the capital letter are farthings which used to feature a wren. If you can see the dates on the coins then you can work out how old I am!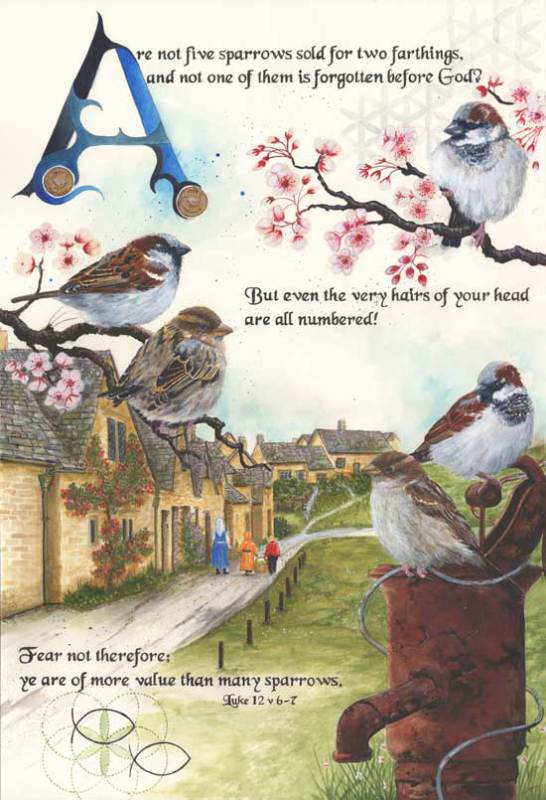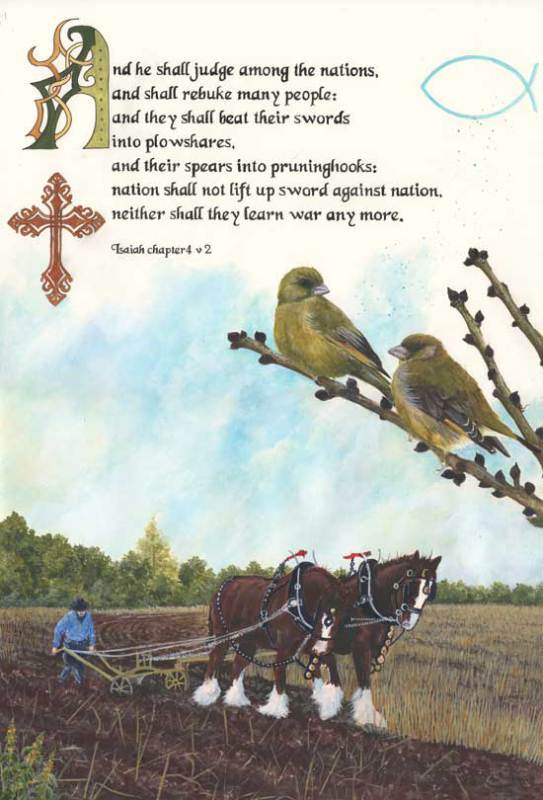 Greenfinches on Ash Twigs. I think Ash trees were one of the first trees I leaned to recognise. Those sooty buds are so distinctive. Shire horses! Wonderful. They are really from an age gone by but you still see them at shows. That's why I used the Amish gentlemen. Perhaps I should have given him some braces. Perhaps an English rural farmer in traditional clothes would have been more appropriate. There is a little bit of Yellow Archangel ion the foreground. 
This quote from Isaiah probably refers to the Millennium. The future thousand year rule of Christ on Earth, in which the "broad plain of the Earth" will be regenerated and peace will come at last. There are theological debates about that, and there are consequently, differing interpretations. One thing is for sure, peace will never come by man's efforts alone. Time has done nothing to curb mans bad attitude toward the world he lives in and depends on.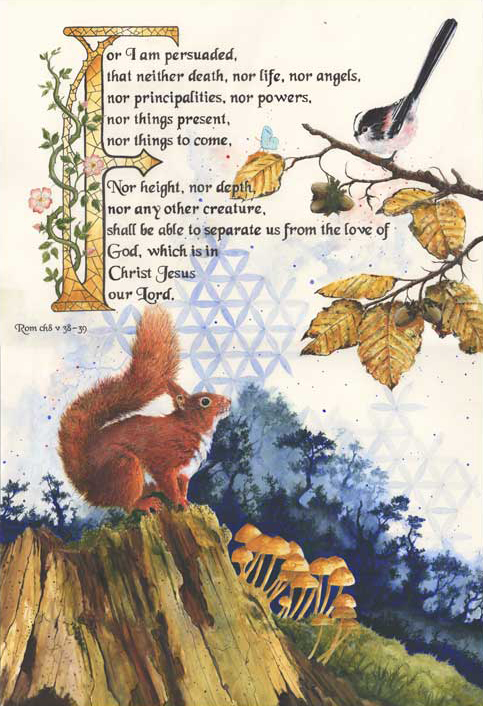 The Long Tailed Tit thinks the squirrel is after the contents of its nest....and it might be. More likely though. The squirrel has its eye on the hazelnuts. These birds are tiny. If it wasn't for the tail they would be smaller than a wren. Their nests are built out of lichen and cobwebs and can be home to sixteen young! 
This is such a powerful text, and it speaks volumes about the sovereignty of God and the place of those who are His. It is an echo of the promise of Christ who tells us that he holds us in His hand and none can pluck us from Him. All of us experience bad things to some degree or other, that is the nature of the world we live in. But it is not the whole story. For those who put their trust in Christ, He promises to bring them through all of their trials, never leaving or forsaking them. He is not a distant God.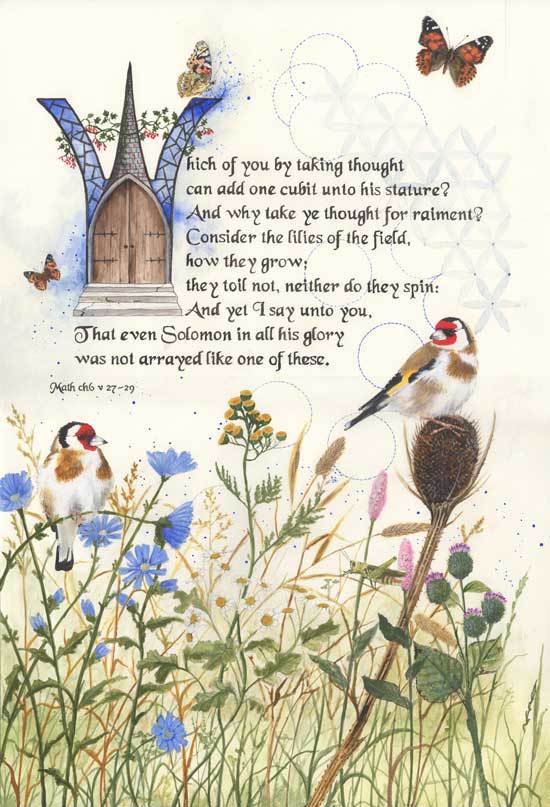 Goldfinches are, without doubt, one of the most beautiful of our native species. See a flock of them, (a charm) rise up into the air, the sun catching the gold in their wings, and it is a magical experience. I have painted them here in a meadow of wildflowers and of course, Teasels, which form part of their diet. The butterflies are Painted Ladies, another beauty, which migrate here for the summer. 
A short extract from the Sermon on the Mount. And how true. We can all learn a thing or two from creation.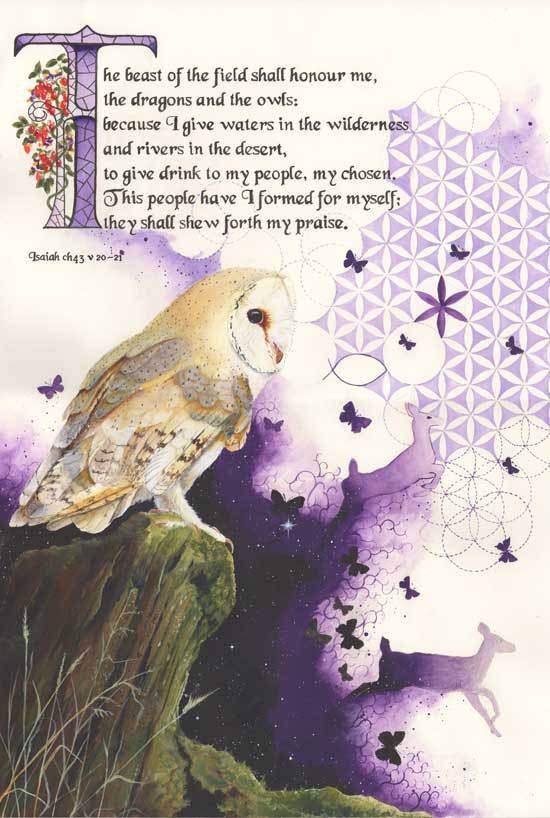 Another Bird I love to paint. And another opportunity to paint an old tree stump in the process of decay. As if I need an excuse! For an artist, things are never more interesting than when they are falling apart. Owls are more readily seen around twilight, and the same is true for deer. They form quite an abstract background, along with all those Ichthys flowers, but I think it works.
Creation speaks of a Creator. If you ever hear a dawn chorus you will know exactly what I mean. It is a privilege to be in the middle of it. Artists paint the kind of things that they hold dear to their heart. Do you think the God who brought all creation into being, in all its diversity and magnificence, is any different?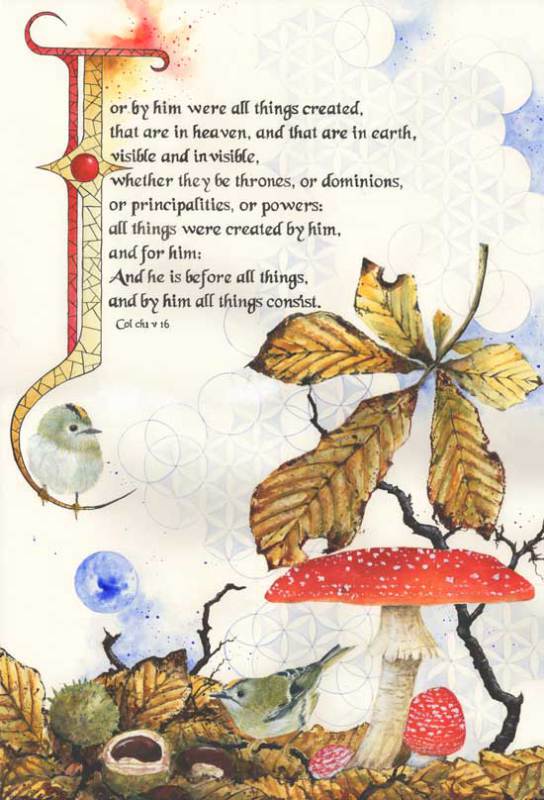 Volumes have been written about the Amanita Muscaria. Most of it is folklore and myth. The fact is, if you eat enough of them raw you are likely to be very ill or die. The shamans of Siberia feed them to reindeer and then drink the urine after the digestive process has filtered out the harmful elements. I kid you not. For me, they are beautiful. Something to be admired not ingested, whatever the means! The Goldcrest are tiny little birds, perhaps smaller than a Wren. And what boy doesn't know about Conkers. Look at them as they appear fresh out of the outer case and you will not see a more perfect veneer. 
Another well known, and quoted, scripture about Creation and  the Creator. It is in fact, talking about Jesus Christ, the Word who spoke creation into being. And not only the Natural World but also the supernatural World.
I know people will say this too cute and that wildlife art should be more realistic. But I have seen this happen, Dormice, when taken from their nest-box, by EXPERT AND LICENSED HANDLERS, will stay asleep! They are cute. No way round it. The Bramble is food for both Dormice and Purple Emperor Butterflies.
For me, this image and Scripture are perfectly matched. Do I really need to add anything to it? This is about the God of the Christian and his relationship to his Maker. It is that simple.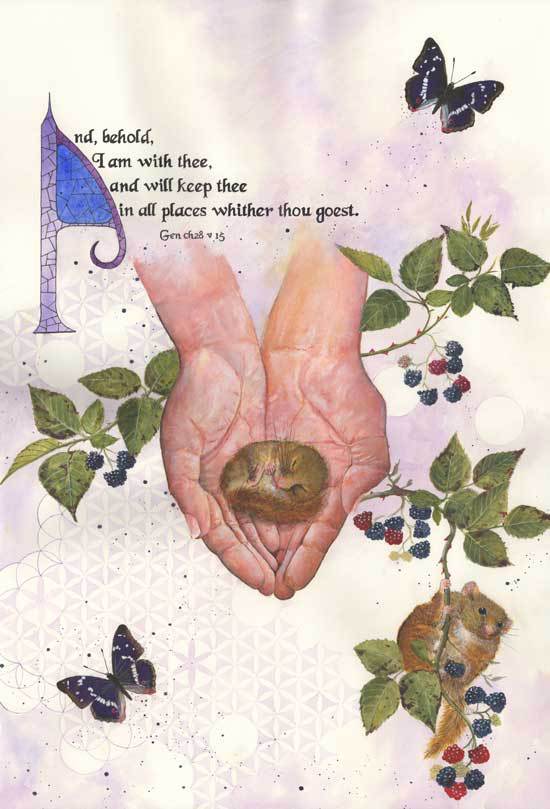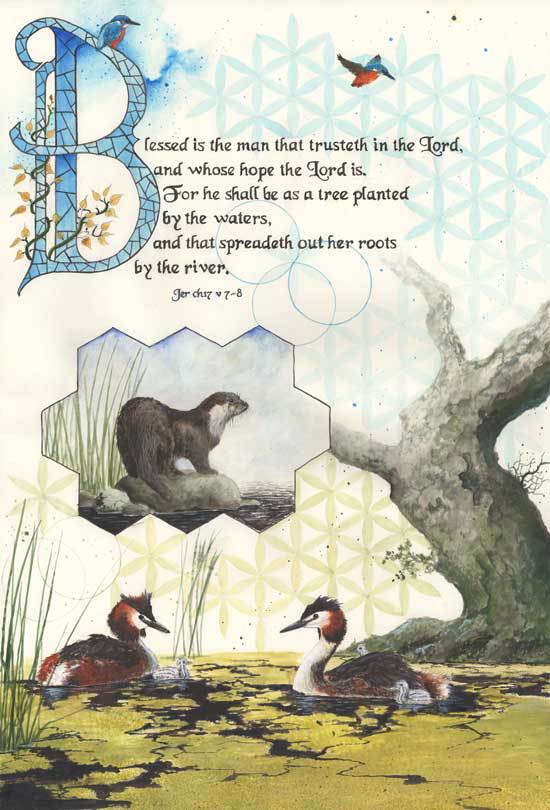 Great Crested Grebes and Otters were at one time hunted nearly to extinction and for the same reason, fashion. The skins from the head of the Grebe were worn by Victorian Ladies as hats and mufflers. The Otters provided fur for coats and generally hunted for sport. The stupidity, cruelty and callous indifference of humanity seems to be almost boundless. And maybe there is some truth in that. In addition, the destruction of the environment and exploitation, and the future does not look great for all species who share the same world. We were given responsibility for our World. We have totally mismanaged it. There will be consequences. 
In complete contrast to the above, this scripture points toward a  a right relationship between God, man and nature, being a blessing. We have choices and responsibility. We see this clearly in Israels relationship to God and whether the land itself responded favourably to them. It also points to a new Heaven and Earth that those who put their trust in God will one day enjoy.
The Redwing, pretty obvious how it got is name, is one of two Scandinavian thrushes that over-winter in Britain. Typical y, you will see them along hedgerows finishing off the hawthorn berries. I have given it a wintry landscape for a backdrop. Will you see one standing on an old garden tap tied to a post with rusting wire? Probably not, didn't stop me painting it though. Herons, on the other hand, standing as they do by the waters edge, look cold all year round.  
These two scriptures compliment each other. God is ageless, and in a world of uncertainty it is good to know there is at least one constant who has the future in His hands. There are many names for God in this respect, the Alpha and the Omega, the beginning and the end, He is from Everlasting to Everlasting. God is not bound by time.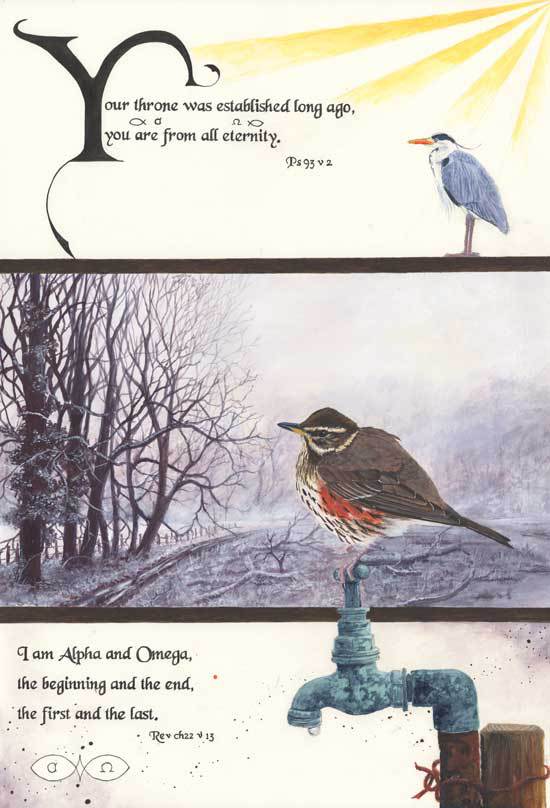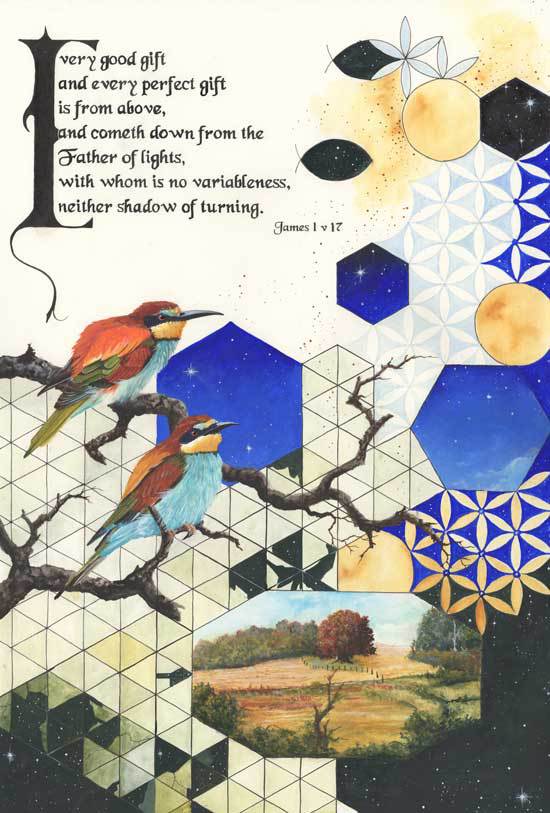 Unlike the Birds in the previous page, these birds a summer visitors though not as common as Swallows and Martins. They are Bee-eaters. Their name comes from their diet. Those colours! You are not likely to mistake them for anything else, though a lot of people have mistaken them for an escaped exotic. 
We are quite often oblivious to the many blessings around us. If we are more fortunate than others then a little humility and gratitude does not go amiss. It must be obvious to any one looking at my art that I love the natural history of Britain. I have grown up in a green and pleasant land, and that has been a blessing for which i amprofoundly grateful. It has been for me a little glimpse of Eden and Eden to come. We should make the most of it whilst it remains to be seen.
Both male and female birds are referred to as Black-caps, which is confusing, since the females have red caps. There you go. It was probably a man who named them. Nevertheless, they are lovely. The church on top of a hill is very British. They do say they built their churches on top of previous pagan sites. It kind of makes sense that they would do that. But there are more churches not on hills, and at one time the entire land was Pagan.
The leaving of the land fallow one year in seven was a command to the ancient Israelites. To give the land rest, a Sabbath for the land. They didn't do it of course and paid a heavy price, one year in exile for every year missed. Despite what some might think, God cares about His creation and is not impressed when we don't take care of it. I am deeply apocalyptic by nature. So when i say that there are people in this world and beyond who would remove every last trace of beauty from the world, i mean it literally. Unfortunately, there are even more who are totally indifferent to its future as long as their own selfish demands are met. This sounds very bleak. But there is hope. And this is the good thing about people who see the future through apocalyptic eyes, for those who put their trust in God, there is hope. There is a God who cares about this world.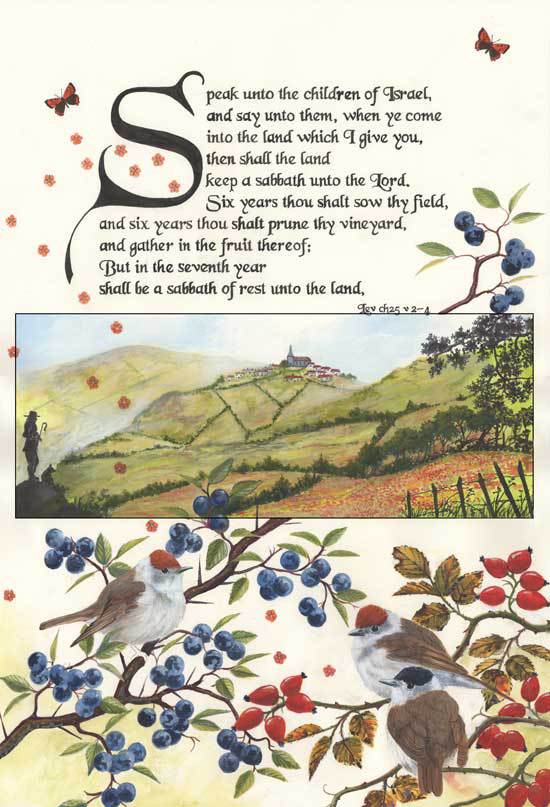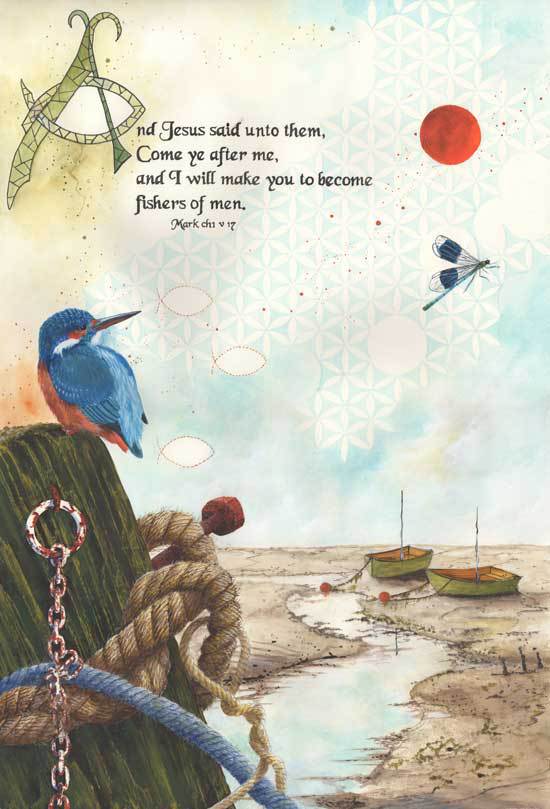 You catch a glimpse of a bright jewel of a bird flashing along a river or coast and you know immediately what you have just seen. The Kingfisher. Actually, this one is a queen. The difference? A little bit of dull orange on the bottom of the bill! Yeah, I know, you are hardly going to see that with the naked eye. The Banded Damoiselle is more likely encountered flying over a slow stream. Tidal estuaries and harbours are an absolute paradise for artists who like to paint old posts, chains and rope, and things that defy description.
Well, it is a bit obvious isn't it? The Christian is called to be Christ's representative on Earth, and that means witnessing for Christ. It means being a witness in the way we live and the choices we make.
The wild ponies in the background were based upon a series of photographs I took from a reserve in Essex! They came from Dartmoor where you are likely to encounter them wandering about the moors. A summer without Swallows is unthinkable. And for that matter so is a pond without Moor-hens.
Another scripture describing the thoughts of God on His Creation. I never tire of them.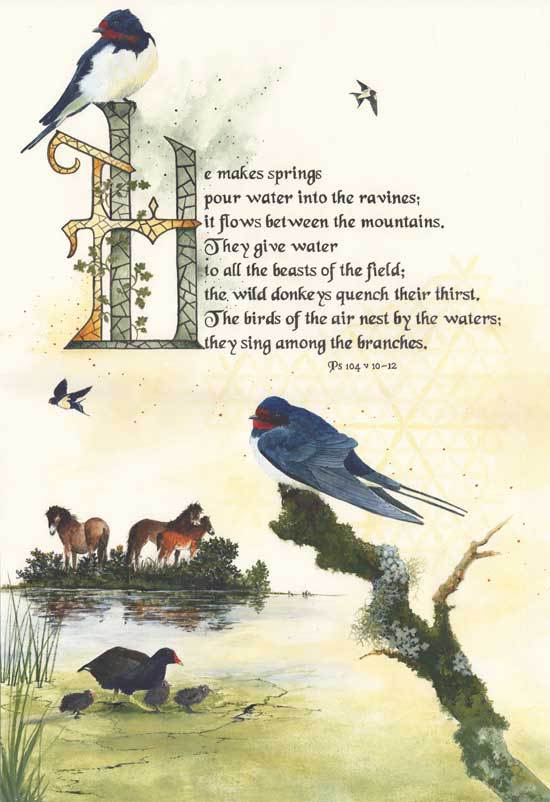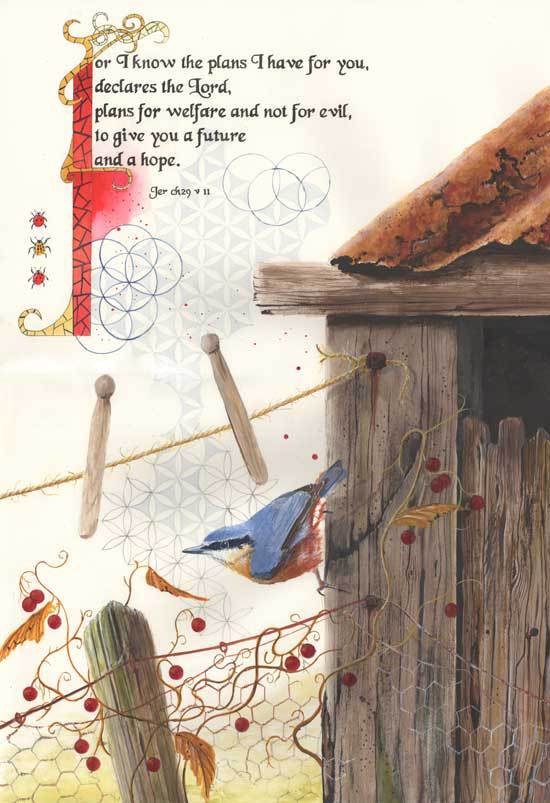 A Nuthatch, not a common bird, is always thrilling to see. I saw one in the New Forest once, where we were camping. They are normally quite shy birds but this one clearly quite used to people and came within a few feet of us looking for scraps of food. I have given this one an unusual setting. Just an excuse to paint all the other stuff really. And a bit of White Bryony thrown in for good measure.
A very positive scripture describing Gods love for those who know him. His plans are always in our best interest even when we don't like them. There is an idea today that Christians can claim health and  wealth as if it was a personal right. But Jesus never promised that, and the fact is, the more a Christian gives himself to his saviour, he can expect opposition, even to death in some cases. Ultimately of course, every true believer will see the new Heaven and Earth and all that that means. we really can't imagine how big a deal that is. John Lennon wrote a song exhorting us to try and imagine that there was no Heaven or Hell. He seemed to find that easy. Of course he did. he was a fool. The fool has said in his heart there is no God. God hold such people in derision.
The Setting is Willie Lotts Cottage at Flatford Mill. It has changed quite a bit since Constables day. Willie Lott. Who was he? Actually, the only reason you know the name is because  Constable painted his house. There is reason to believe that Willie never left the area in his entire life! The two small birds are Sedge warblers, one of those small brown birds you hear but don't see unless they fly up out of the reeds. The other bird is a little Egret which has taken up residence in Britain migrating Northward from North Africa. Global Warming? I don't know.
The scripture refers to salvation in Jesus Christ. It is reiterated in the book of Revelation. Salvation is a serious matter, believing on the Lord Jesus Christ and his blood shed for you as a believing individual. It is a one to one personal experience. Simply belonging to a church or organisation, or infant baptism   will NOT do it. Heaven is for none but the true believer, It is not for all. Come, all who thirst and drink. This is the gospel of Jesus Christ and there is no other way.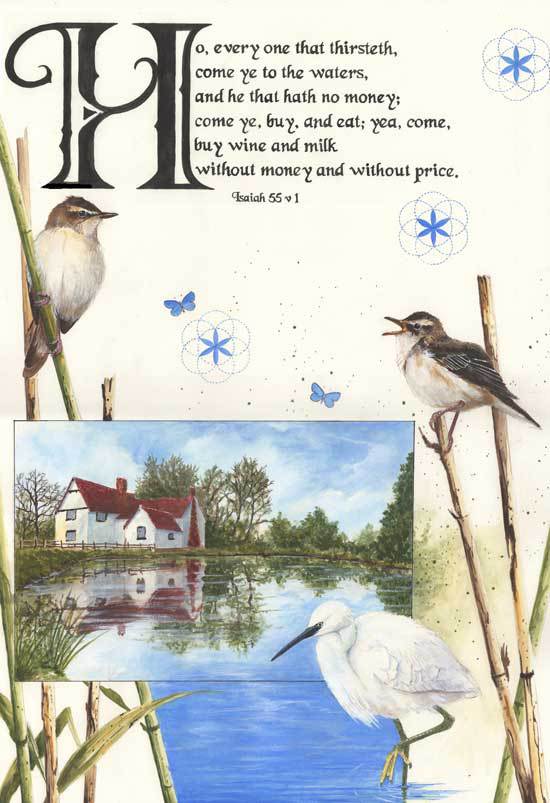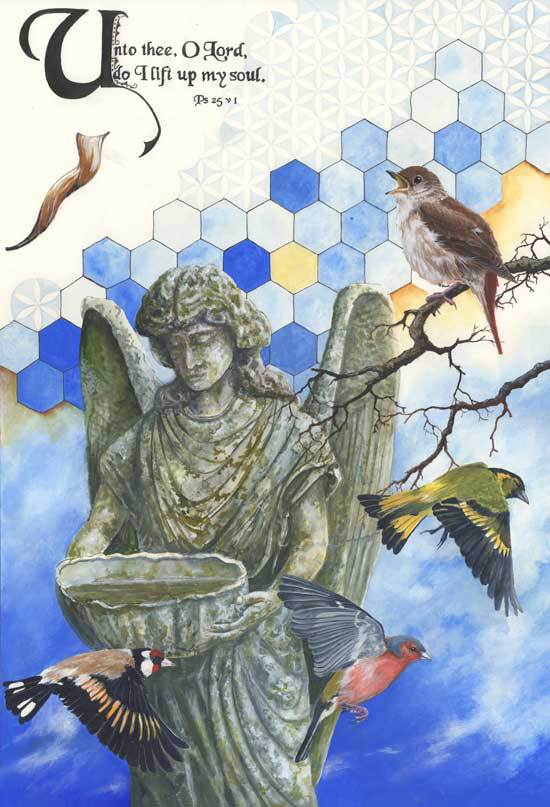 Some people think using biblical figures as statues is disrespectful. Well, they might be right. I could have used a naked Venus figure. Not! There is a meaning to the choice of birds in this painting. They are all brightly coloured except one. But that plain looking bird with the beautiful eyes is a Nightingale. Unto thee O Lord do I lift up my Soul. 
I don't know what more I could add to the comment above. Let not your voice be silent.
All the art  in this Gallery was created using various brands of Acrylic paint on 140lb Fabriano Artistico Paper. 22* x 15* (Does not use animal products in the sizing) I used Rosemary & Co Brushes. (Synthetic) The calligraphy was done by hand using a brush and acrylic ink.
If you would like to leave a comment or ask me a question concerning the art or anything I have written on this site I can be contacted at the following address.